As one of the leading global direct selling companies, how has Amway's business (globally in general and in Asia, including Vietnam, specifically) been affected by Covid-19?
When I think about 2020 and 2021, I think about the challenges we faced and how we persevered through those challenges, both in life and at work. The world changed, and we had to adapt - whether it was taking care of family members impacted by Covid, managing a new way of working, or helping our children through remote learning - there was a lot of change to process.
Amway, like many companies around the world, faced a number of challenges due to the pandemic, but thanks to the flexibility and early-prepared contingency plans, our employees and the global management team quickly adapted and improvised to meet consumer needs and support the community in all markets in which Amway does business.
From focusing on providing high quality health & wellness products to our customers and Amway Business Owners (ABOs) to working hard to minimize supply chain disruptions, our 15,000 employees around the world have shown their dedication and determination in ways that have made us so very proud.
Our ABOs have also changed the way they do business. They have been constantly learning and adapting to new ways of working by leveraging social commerce to connect with customers online, sharing their passion for health & wellness, beauty, cooking, and more with their customers.
What lessons have been learned in dealing with the pandemic?
Since launching in Vietnam in 2008, Amway has seen that consumer demand for Amway's health & wellness, cosmetics, personal care and home appliance products have grown steadily year-on-year. We have always believed in the strong potential of the Vietnamese market and will continue to invest in the country for many years to come.
Additionally, with a business philosophy of "Helping people live better, healthier lives", we are focused on activities that build various "healthy, beautiful and family-oriented" communities, including a health & wellness community, a beauty care community, and a food-loving community. We believe in behaving in an ethical way that is focused on protecting consumers while providing them with exceptional products. And we believe that environmental protection and social responsibility are keys to being a good global corporate citizen. That is why, for nearly 15 years, Amway has been one of the leading companies in the direct selling industry in Vietnam.
Faced with the impact and difficulties from the global pandemic, and from the impact the pandemic has had in Vietnam in particular, Amway Vietnam is aware that, more than ever, society needs the cooperation and support of the business community to overcome this storm together.
Amway Vietnam has joined with the community to help throughout the pandemic. In 2020, the company implemented a program that donated health protection and personal hygiene products to the northern border province of Lang Son with a total value of VND600 million ($26,360) in products, and also contributed VND300 million ($13,180) to support a team of doctors and nurses on the frontlines through the "Millions of hearts looking to Da Nang - Quang Nam" program.
In 2021, Amway Vietnam has donated immunity-related products, personal hygiene products, and specialized cleaning products to hospitals, frontline forces, and steering forces to encourage and energize the health sector in the southern region. The total value of supporting products stands at more than VND1 billion ($43,930).
Furthermore, during the most difficult period of the pandemic, Amway's factory in southern Binh Duong province implemented the "3-on-site" program in compliance with the government's Directives, to ensure product supply and home delivery for consumers.
Because of such efforts, over nearly 15 years, Amway Vietnam has been honored to receive a number of Certificates of Merit and recognition from government agencies, such as Certificates of Merit from the Minister of Health (2018 and 2020) and from the People's Committees of Hanoi and Lang Son for activities to protect public health and social responsibility. Amway Vietnam has also been recognized for five consecutive years in the "Top 100 Sustainable Enterprises - Top 100 CSI" and as one of the Best Places to Work in Asia (2019 and 2021).
Amway Vietnam emphasizes sustainable development as a strategic focus in its business plans. What are your plans to lead the company's long-term business strategy in Vietnam?
Over the past three years, Amway Vietnam has built and perfected digital tools that promote quick and convenient interaction and thus connection with customers. We have also developed a chain of modern, dynamic, and comfortable product experience centers to create a favorable business space for ABOs, helping customers consult with our ABOs and fully experience what sets our products apart from our competitors. The main goal of this digital development trend is to better connect with young consumers in the market and build communities suitable for each interest, such as a health & wellness community, a beauty care community, and a food-loving community.
In the years to come, Amway will increase its investment in nutritional science and continue to innovate and manufacture products to serve growing consumer demand in the area of health & wellness. Amway Vietnam is committed to the highest quality in all of our production activities as we work to meet the increasing health & wellness demands of our consumers. On top of that, we are proactive in and at the forefront of regulatory compliance, training and coaching our staff and ABOs, and partnering with government agencies and the media to enhance the reputation of the direct selling industry within society.
How has Amway invested in digital platforms and product innovation to promote business growth?
Amway has invested millions of dollars into digital platform development to help our ABOs build their businesses and to provide the best customer experience possible across regions.
Today, many of our ABOs are learning ways to leverage social platforms to find new customers and expand their reach. We see several ABO Leaders take the opportunity to become Amway Creators. They are influential, authentic, and trusted, and they pursue their passions - be it health & wellness, cooking, fitness, or beauty - on social platforms. We are working with our ABOs to give them new, exciting Social Community and Commerce capabilities and execution plans in markets, to execute programs on social platforms.
When it comes to product innovation, Amway wants to bring the best wellness, nutrition, and skin product innovation to our ABOs and customers. We are investing in new science and research at many institutes and universities around the world supporting the discovery of wellness, nutrition and skin health understanding, and the advancement of plant and ingredient technologies. We are also relentlessly testing products with our customers to ensure we have the best balance of science and nature in product format and packaging that's high-quality, convenient, effective, and delightful.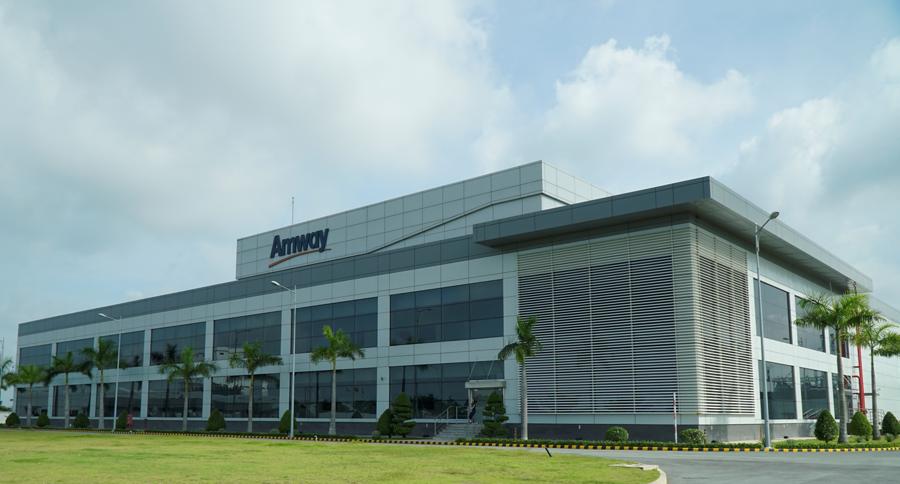 With 27 years of experience, including two-plus decades in direct selling with Tupperware, where you presided over the Asia-Pacific region and worked with multicultural teams across Asia, how do you view the potential of the Vietnamese market for Amway in the years to come?
At Amway, we see Vietnam as a market that has tremendous potential, with a stable political situation and a more attractive business environment. We are excited about our future in Vietnam and the direct selling industry as a whole. In recent years, the Vietnamese Government has made certain changes to create a favorable business environment for legitimate direct selling companies, and we are encouraged to make a strong contribution to Vietnam's socio-economic development. We know that competition in this field is inevitable, but we're working hard to provide the best, highest quality products to our ABOs and customers so we can continue to be a leader in Vietnam. I am very optimistic about Amway's future in Vietnam and look forward to working with our employees, ABOs, and customers for many years to come.