The Zoomlion Vietnam Co., Ltd. held a launch ceremony for the Zoomlion Service Tour 2023 on August 25.
Service Tour - After-sales service for each customer
The Service Tour is an annual activity held by the Zoomlion Vietnam Ltd., Co. to develop after-sales services and give customers who buy Zoomlion machinery and equipment the best possible care. Zoomlion's team of technical experts from each region visits, inspects, and maintains the equipment of all customers who have purchased Zoomlion brand machinery and equipment in that region. As a subsidiary of the Zoomlion China Group, Zoomlion Vietnam's Board of Directors has carefully prepared for the 2023 Service Tour.
The launch ceremony involved Mr. Xiao Jicheng, General Manager of Sales at Zoomlion Vietnam; Mr. Gan Manfei, Deputy General Manager of Sales at Zoomlion Vietnam, and all officers and employees of Zoomlion Vietnam in the northern region.
More than you care
At the opening ceremony, Mr. Gan Manfei said that Zoomlion's 2023 Service Tour has the theme "More than you care". Zoomlion has been recognized as one of the world's leading machinery and equipment brands, and wishes to not only provide customers with the best products but also the best services. Customers will experience not only product quality but also feel the responsibility and dedication in Zoomlion Vietnam's services. With that vision, he said, Zoomlion is actively developing professional after-sales services to customers nationwide.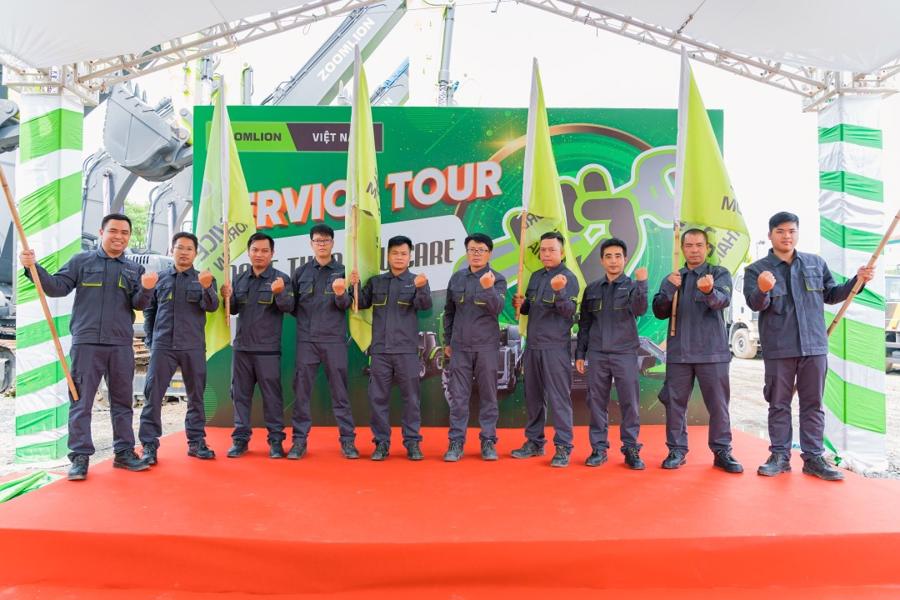 He also emphasized that, throughout the development of the Zoomlion China Group in general and Zoomlion Vietnam in particular, Zoomlion has remained steadfast in overcoming the difficulties and implementing creative and comprehensive innovations. In recent years, it has been accelerating its transformation and upgraded processes based on two factors: products and technology, thereby promoting the smart upgrade process. Zoomlion is focusing on three industrial fields: construction machinery, agricultural machinery, and new materials. By applying intelligent transformation to the industrial sector, Zoomlion has formed a world-class high equipment manufacturing enterprise. With the macro vision of the Board of Directors and a team of professional officers and employees, Mr. Gan Manfei believes that Zoomlion will develop strongly in the future.
Applying technology in machinery management
Also at the launch ceremony, Mr. Pham The Hien, Head of After-Sales Service at Zoomlion Vietnam, said that throughout the development of Zoomlion brand, Zoomlion branded products have affirmed their quality not only in Vietnam but also around the world. In the Vietnamese market in particular, Zoomlion strives to improve service quality. Many service locations have been built and developed in key areas, such as Hanoi, Da Nang, and Ho Chi Minh City. Concurrently, the service team is growing stronger in both quantity and quality. Specifically, in recent years, Zoomlion Vietnam has introduced high technology into customer care services to bring customers the best experience.
Mr. Hien added that, with the motto "More than you care", the Service Tour is being organized throughout Vietnam with the main goal of promoting after-sales services, ensuring that customers' machinery and equipment are operating stably. Not only that, the Service Tour 2023 also has important meaning in promoting and offering software called ZOOMLINK to customers, which is designed and developed by a team of high-tech staff at the company. In the initial phase of launch, the ZOOMLINK software includes functions such as personnel management, repair requests, evaluation functions, and service progress tracking. In the near future, it will be improved and upgraded to bring customers the best technology service experience. Finally, Mr. Hien said, in the future, Zoomlion Vietnam's after-sales service team will continue to promote their enthusiastic working spirit to make customers satisfied and assured when using products.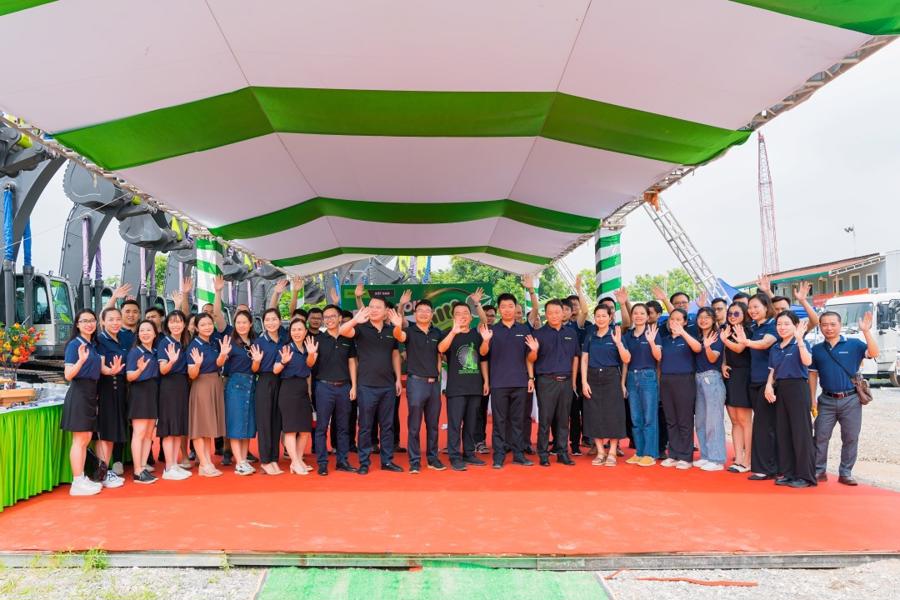 After the speeches was the most important part of the launch ceremony: the flag handing-over ceremony. This is a traditional ritual at each Service Tour Launch Ceremony, whereby a company representative hands over service flags to the engineering team as a token of trust and responsibility in customer care and to offer them best wishes throughout the Service Tour. This year, Mr. Xiao Jicheng, on behalf of the company's Board of Directors, presented six flags to a team of ten professional engineers, to officially launch the Service Tour 2023.
The launch ceremony for the Service Tour 2023 took place in an atmosphere of determination and excitement. The Tour is expected to run for two months.