Infineon Technologies AG, a German company specializing in semiconductor solutions, has announced it will expand its operations in Vietnam, with its primary focus revolving around the research and development (R&D) of cutting-edge chip technologies, sales, and marketing. It also opened new office in Hanoi, in May, which will employ up to 80 staff. "The new development center in Hanoi will facilitate Infineon Technologies' ability to meet the escalating demand for functional testing and customized circuit design, particularly for our industry-leading System-on-Chip (SoC) solutions," said Mr. Hartmut Hiller, Deputy CEO of Design and Support Services (DES) at Infineon Technologies.
Significant market
Meanwhile, the new $1.6 billion semiconductor plant belonging to South Korea's HANMI Semiconductor in northern Bac Ninh province is scheduled for trial production in late October. At an inspection of construction progress at Amkor Technology Vietnam's plant, Mr. Nguyen Anh Tuan, Member of the Party Central Committee and Secretary of the Bac Ninh Provincial Party Committee, expressed his joy at construction being on schedule while ensuring worker safety. "This facility will not only be Amkor's largest and most advanced globally but also a model working environment for the group," he said. "The Bac Ninh plant is a key project, marking the beginning of a new trend in attracting new investment to the province."
The potential the market holds is greatly appreciated. According to Statista, revenue from Vietnam's semiconductor market is projected to reach $20.15 billion this year and post a compound annual growth rate (CAGR) of 11.62 per cent in the 2023-2027 period, for a market volume of $31.28 billion by 2027. The largest market within the semiconductor industry is integrated circuits, with a projected market value of $16.44 billion this year.
Meanwhile, figures from the US Census Bureau show that Vietnam's semiconductor chip exports to the US reached $562.5 million in February, up 74.9 per cent year-on-year. Vietnam now ranks third in Asia in terms of semiconductor exports to the US, after Malaysia and Taiwan (China).
Similarly, a recent report from the Bank of Korea (BoK) noted that Vietnam is quickly becoming a significant market for South Korean semiconductor makers grappling with lackluster demand in China. The bank sees Vietnam's emergence as a new source of demand for South Korean semiconductors as highlighting its growing status as an international hub for Internet of Things (IoT) device production and potentially positioning it as an alternative to China.
The country's abundant low-wage workforce and its proximity to the Chinese market are also attracting global businesses, including South Korean companies, looking to establish manufacturing facilities.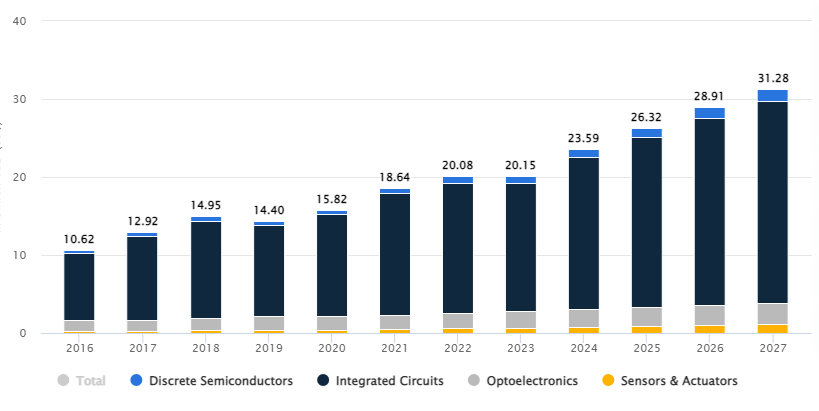 Appeal maintained
In addition to increasing investment expansion, foreign companies have also cooperated with Vietnamese companies to explore the country. For instance, the Californian computational software firm Cadence Design Systems Inc. signed an MoU with Ho Chi Minh City's Saigon High-Tech Park (SHTP) in May on cooperation to foster electronic design expertise and advance Vietnam's semiconductor industry. Cadence expects to help empower the next generation of chip designers in Vietnam, which is on the way to becoming a new semiconductor hub in Southeast Asia.
"We are excited to cooperate with SHTP and prestigious universities to support the expansion of electronic design expertise in Vietnam," Mr. Michael Shih, Corporate Vice President of Sales for Asia Pacific and Japan at Cadence, said at the signing ceremony. "By providing access to our software tools, we aim to equip the next generation of engineers with the skills they need to contribute to the growth of the high-tech industry in Vietnam."
Other large foreign semiconductor enterprises in Vietnam include Intel, Hana Micron, Synopsys, Renesas Electronics, Samsung Electronics, Hayward Quartz, and USI Electronic, with two Vietnamese players, Viettel High Technology Industries Corporation (VHT) and FPT Semiconductor, also involved in chip design. FPT Semiconductor designed and manufactured three lines of source chips in 2022, and has the first contract to supply chips to partners, with an order of 25 million in 2024 and 2025. It is also fulfilling an order of 2 million chips for Japanese partners. It is expected that, this year, it will have seven new chip lines.
A recent report from Technavio pointed out that the growing number of smartphone users is driving market growth. In order to meet rising demand for smartphones, manufacturers in the region plan to open more factories in Vietnam. About 40 different mobile phone brands, including Sony and Samsung, are exported from Vietnam. There is also an emerging trend in smart homes, with devices such as cameras, sensors, control systems, and automation systems, which all require semiconductors to function.
Moving forward
The government has been actively implementing policies to support the development of the semiconductor market and attract further investment. It has issued Decision No. 66/2014/QD-TTg approving a list of high technologies prioritized for development investment and another list of high-tech products eligible for development promotion, in which it specifies technologies for designing and manufacturing integrated microcircuits and integrated microcircuit products on a list of high-tech prioritized for development investment and a list of high-tech products encouraged for development.
"With a burgeoning and youthful population of nearly 100 million, Vietnam has swiftly transformed into a coveted destination for multinational corporations seeking to tap into a pool of exceptional technical talent," Mr. Chua Chee Seong, President and Managing Director of Infineon Technologies Asia Pacific, was quoted as saying. The country also has the opportunity to enhance its position in the global value chain and transform from a labor-intensive model to an advanced technology-powered model by embracing semiconductor development.
The Technavio report also suggests that several vendors wish to move their semiconductor production lines to Vietnam, particularly in light of US-China trade tensions, resulting in an increasing need for skilled workers. "The need for skilled workers with the knowledge and aptitude to produce semiconductors will rise as a result," the report noted. "However, the nation is short on professionals with the necessary skills and training."
Analysts believe that in order for the domestic semiconductor industry to develop, Vietnam must establish a supply chain capable of supporting chip production, including the domestic production of key components and equipment. It is also necessary to strengthen the training of skilled workers with knowledge in chip design, production, and testing. This will require investment in education and training programs as well as the application of theory into practice.
An attractive business environment for semiconductor companies must be created, by offering tax incentives, simplifying legal procedures, and supporting R&D. The country should also prioritize investment in R&D to develop new technologies and products and to remain competitive in the semiconductor market. This will require coordination between business and universities as well as government support.