The An Cuong Wood - Working Materials JSC, headquartered in Ho Chi Minh City, is a leading manufacturer and supplier of wood-working materials, solutions, and furniture in Vietnam and Southeast Asia. Established in 1994, it has now grown to employ nearly 3,000 employees. Its extensive network of nearly 60 luxurious showrooms and advanced manufacturing facilities allow it to provide the highest quality services to customers.
Its export portfolio covers 25 countries and territories, including the US, Canada, and Japan, among many others. With end users' satisfaction a priority, the company consistently strives for perfection in everything it delivers. Export products include kitchen cabinets, vanity and laundry cabinets, components, office furniture, bedroom furniture, hospitality furniture, and shipbuilding materials, etc.
An Cuong's team has experience with overseas clients and projects in several countries and territories. The company is confident in its superior customer service, innovation, quality, and commitment and strives to be the industry standard in service to customers.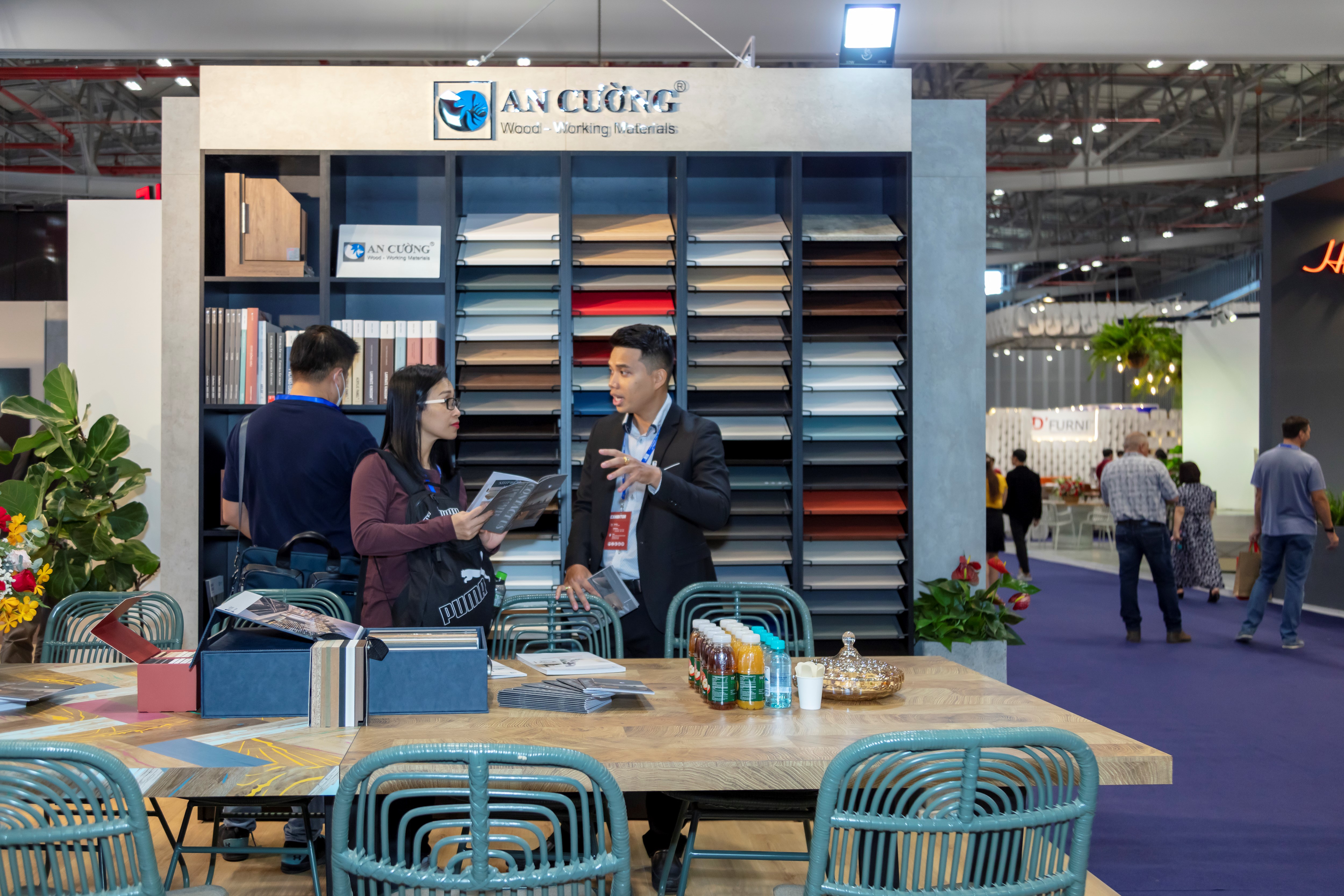 It is committed to maintaining a sustainable production process, including raw material sourcing, cabinet making, door finishing, hardware preparation, quality control, packaging, and container loading / shipping / exporting solutions, etc.
The company is ready to provide professional service to distributors / wholesalers, trading agents, project builders, interior designers, furniture stores, apartments, hotels, residences, and commercial contractors, etc. Most importantly, it is able to customize any cabinet design in order to develop customers' own cabinet lines.
Its extensive 240,000 sq m factory and 5,000 sq m warehouse allows the company to be the perfect manufacturer. Its warehouse is stocked with over 1,000 wooden containers of MFC board, laminate, acrylic panels, and veneer. For export, the company can produce up to 250 containers a month, and its panel boards are certified under many international standards, such as EPA, E1, E2, E0, and super E0.
In 2017, An Cuong was honored to welcome the Sumitomo Forestry Group to become its strategic shareholder. With more than 200 years of experience in the industry, annual revenue of over $10 billion, modern management technology, and a great position in the international market, Sumitomo Forestry has helped An Cuong strive for the best quality, more innovative designs, and better services to customers. Its products are guaranteed to be compliant with international standards and requirements in addition to being certified as environmentally-friendly and green.
An Cuong's production line includes a melamine impregnation line; a melamine short cycle pressing line; an HPL and veneer laminating line; a high gloss acrylic and lacquered laminate laminating line; painting lines; and a high-gloss acrylic seamless door line.
Its production department uses software and provides mechanical specifications / data requirements for its machine systems. Machines automatically produce components according to engineering data.
It also provides customers with service solutions to deliver the best value to products. Services such as slim line, seamless edge-banding technology, and postforming kitchen and table tops are all offered by An Cuong.
- Assembly: To assist you with assembly, the company can dowel and glue or camlock structures. Cabinets can also come RTA or knocked-down.
- Packaging: The company always proposes the best packaging methods to maximize the quantity load and minimize the landed cost for our clients. These can pass any required drop test from ISTA 1A, 2A, 1B, 2B, and 3A, etc.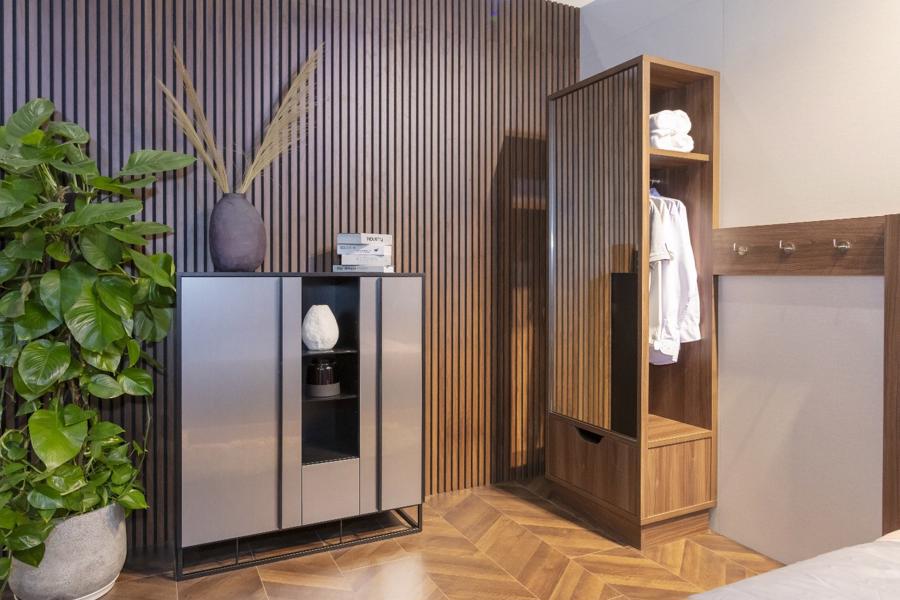 An Cuong's supply chain passes the strictest of factory audits, including ISO 9001, QSA, C-TPAT, SCCS, COC, FCCA, RESA (RS), and GMP, etc.
Complementing its advanced machinery is the company's experienced and talented team. It has been accredited with SA8000 certification, ensuring that work meets international standards. An Cuong is always ready to resolve even the most challenging problem for customers.
Its top-class facilities and human resources allow it to deliver the perfect solution. It also has over 1,000 different colors and surfaces in natural looks, like oak, ash, and walnut, and bold designs with a leather, metal, or fabric effect. In addition to its wide range of solutions, the company also offers K, J, Z, and U-profiled handles, making cabinet designs more luxurious. It is also flexible in conducting any third-party testing and inspection required by customers.
An Cuong's quest for perfection is never-ending. It is fully committed to continuing its investments in most advanced machinery and expanding its capacity and supply chains. The awards it has received are a reflection of its commitment to innovation. An Cuong has been awarded Top 10 Sao Vang Dat Viet, Top 10 Prestigious Building Materials 2022, Sustainable Business CSI 2022, and National Brand of Vietnam Value 2022. For six consecutive years, the company has received awards for Top 50 Enterprises in Vietnam (from Vietnam Report), HR Awards 2022, and Top 50 Corporate Sustainability Awards 2022.
- Ho Chi Minh City Export Furniture Fair (HawaExpo 2023) (February 22 - February 25)
- Location: Saigon Exhibition and Convention Center (SECC), 799 Nguyen Van Linh, Tan Phu Ward, District 7, Ho Chi Minh City