The Vietnam Circular Economy Forum 2023, with the theme "Developing a National Action Plan to Implement a Circular Economy", was held in Hanoi on November 16 by the Ministry of Natural Resources and Environment (MoNRE).
The forum saw the participation of Deputy Prime Minister Tran Hong Ha, leaders of central ministries and branches, representatives from non-government organization (NGOs), international organizations, universities, research institutes, and businesses, and leading experts on the circular economy.
Role of a Circular Economy
Addressing the forum, Deputy Prime Minister Tran Hong Ha said a circular economy represents a step forward on Vietnam's journey to sustainable development and the journey of other countries around the world. "I think a circular economy is also key to connecting businesses and the government," he said. "The government, businesses, scientists, and the people must agree and have the right awareness to achieve goals regarding the circular economy."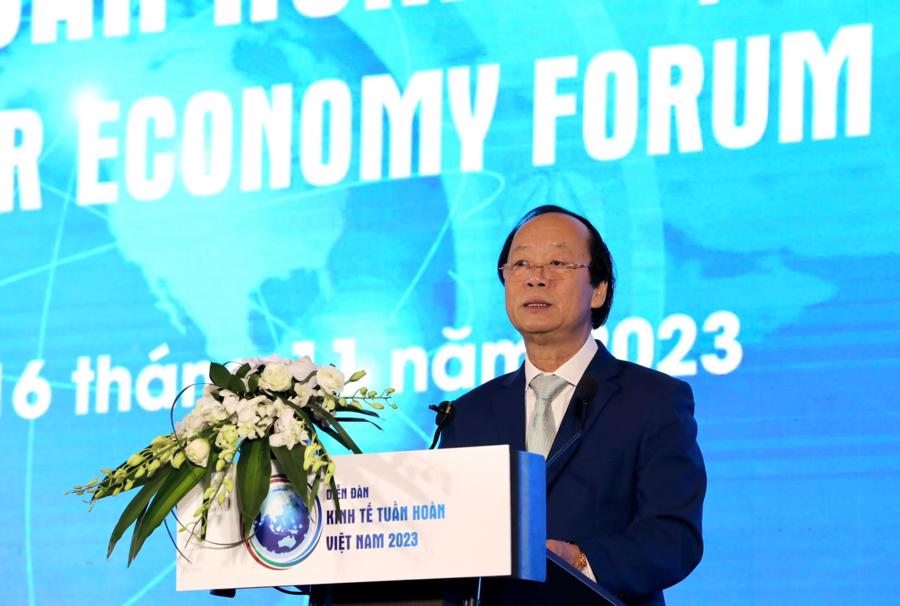 Other speakers emphasized that environmental and climate issues are given the highest priority in Vietnam's agenda and development plans, with the goal of protecting people's health, ensuring the quality of the living environment, and protecting biodiversity and ecosystems. Deputy Minister of Natural Resources and the Environment Vo Tuan Nhan said a circular economy is the right direction for Vietnam to take to record sustainable economic development. "In particular, a circular economy has been encouraged by international organizations and countries around the world to avoid the depletion of natural resources and mitigate the impact of climate change," he said. "Developing a circular economy is a key solution to innovate new economic models, improve the quality of agricultural products, improve national competitiveness, ensure sustainable production and consumption, and contribute to harmonizing the relationship between the economy and the environment."
The Vietnamese Government has developed a draft National Action Plan for a Circular Economy to 2050, to serve as the pathway to implementing its Nationally Determined Contribution towards the net-zero emissions target by 2050. It represents the collective efforts of all sectors and reflects Vietnam's determination to tackle global challenges and align its economic development with international standards.
Ms. Ramla Khalidi, UNDP Resident Representative in Vietnam, highlighted that a circular economy plays a very important role in moving towards sustainable development. "UN Secretary-General António Guterres has said that the 2030 Sustainable Development Goals (SDGs) are off-track and has called for a rescue plan," she told the gathering. "We believe that building a sustainable, inclusive, and prosperous world by 2030 is not only still possible but necessary. By accelerating the transition towards a low-carbon and inclusive circular economy, Vietnam can lead the way, demonstrating an alternative pathway to development and achieving the SDGs."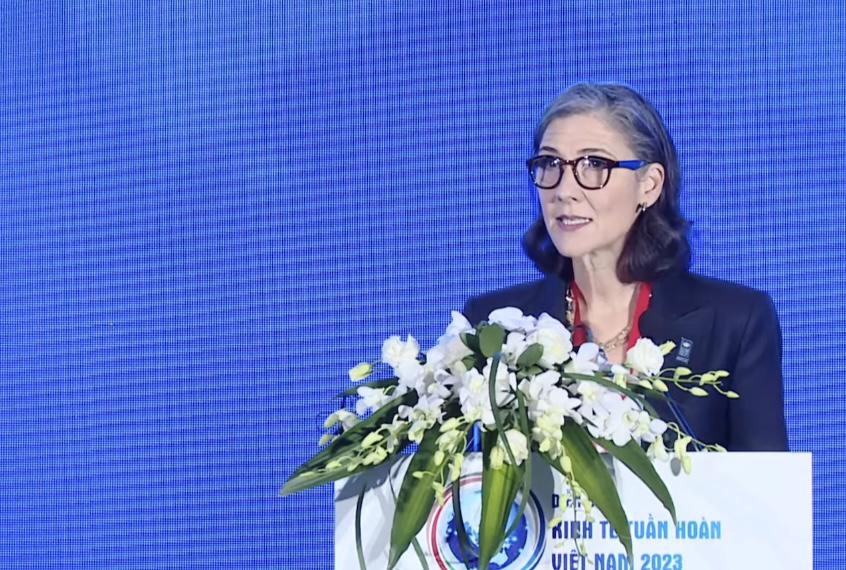 Along with Vietnam's ambition to develop a circular economy, the country's domestic and international businesses community are currently adopting sustainable and environmental, social, governance (ESG) strategies to evaluate the sustainability and ethical impact of investments and operations. This aligns with the principles surrounding a circular economy. "At SCG, we conduct our operations with an ESG 4 Plus strategy, which includes Set Net Zero by 2050, Go Green, Reduce Inequality, and Embrace Collaboration Plus Trust through Transparency in all operations," said Mr. Roongrote Rangsiyopash, President and CEO of SCG. "With Vietnam's National Action Plan for a Circular Economy, I believe there will be more and more businesses adopting ESG strategies into their operations, to comply with the new direction and together work towards one common goal."
Ms. Nguyen Thi Bich Van, President of Unilever Vietnam, said Unilever is pioneering the building of a circular economy for plastic waste management in Vietnam through a first-of-its-kind Public-Private Collaboration (PPC) with MoNRE. "We have also carried out communications programs through the media in Vietnam about recycling waste to minimize the impact on the environment, contributing to the circular economy," she added.
Similarly, Mr. Do Thanh Son, Deputy General Director of VietinBank, said it identifies its responsibility as a pioneer in implementing the policies and directions of the government and the State Bank of Vietnam (SBV) in promoting the development of sustainable green credit, and stands ready to accompany the business community to contribute to implementing the national green transformation strategy and conduct production and business associated with environmental protection. "VietinBank is committed to accompanying and supporting businesses in accessing sustainable financial products to apply circular economic models in production and business activities, contributing to the implementation of the National Action Plan to implement the circular economy," he explained.
In the context of global economic integration, Vietnam is signatory to many new-generation free trade agreements (FTAs) with countries and economic regions around the world, including commitments to ecological environmental safety standards, so applying a circular economy model is an inexorable trend towards sustainable development.
Solutions to be implemented
To fully support the development of a circular economy, Mr. Nhan suggested that there needs to be support for the sustainable activities of international businesses and organizations in Vietnam. "The success of a circular economy can only be realized with the participation of thousands of businesses, and the support of the international community is very important," he said. "For that reason, I call on the business community and international organizations in Vietnam to realize the goals set out in the circular economy development process."
In order to boost the development of the circular economy, Ms. Khalidi said Vietnam should activate three strategic enablers. The first is the eco-design of products. A circular economy aligns with SDG 12 on "Sustainable Consumption and Production" and requires embedding the concept of "design" at its core. "This starts with developing general requirements for eco-design, covering prioritized products such as packaging, plastics, food and beverages, textiles, and electronics, with a focus on medium to large enterprises," she explained.
The second enabler is the use of digital technologies. Designed to serve the circular economy, digitalization will accelerate achievements under SDG 9 on "Industry, innovation and infrastructure". "Not only do digital technologies provide opportunities for circular businesses to thrive, such as by sharing and reusing systems, more efficient sourcing of recycled content, and intelligent value chain management, they also attract finance in the form of ODA, venture capital, and public-private partnerships," she said. And third, a circular transition is a promising vehicle for enhancing human capital. "Circular industries can create decent, dignified, and green jobs, fostering conditions for sustainable, inclusive, and sustained economic growth," she said.
Mr. Rangsiyopash suggested that to accelerate the impact of a circular economy and drive progress, cooperation across industries will lead to greater results. "We are looking forward to cooperating with our local partners to embrace ESG principles and hence promote circular economy practices," he said. "I believe that with Vietnam's plan for a circular economy and the latest government decree to set the foundation for a carbon trading market, the country's net-zero goal will soon be realized."
Other speakers said that by introducing a national regulatory and policy framework conducive to circular economy finance, Vietnam can tap into non-traditional sources of financing such as green bonds, loans, and impact investing, following the overall direction of the government to take a "whole of society" approach to reach carbon neutrality and green growth. "The promotion of ESG standards, measuring business's environmental, social and governance practices, will encourage the alignment of business operations with Vietnam's ambitions in a circular economy, and help access capital from a rising number of ESG investors," Ms. Khalidi said.