On December 9, at a ceremony to announce and award sustainable businesses in Vietnam and to hold the Vietnam Corporate Sustainability Forum 2021 (VCSF), hosted by the Vietnam Chamber of Commerce and Industry, the Phuc Khang Corporation was ranked in Vietnam's top 10 sustainable businesses.
The corporation has improved in leaps and bounds and this marks its journey towards sustainable development.
In attendance was Deputy Prime Minister Vu Duc Dam, who is also Chairman of the National Committee on Sustainable Development and Competitive Competence Improvement, together with 150 representatives from authorities, organizations, and leading businesses in Vietnam. The ceremony also attracted a lot of attention from diplomatic groups, international organizations, national business associations and communities, experts, and the media.
With an orientation towards being a sustainable green developer undertaking its corporate social responsibility (CSR), Phuc Khang has recently not only made determined efforts to build green products certified by global standards, ensuring residents' health and economic benefits in harmony with the ecosystem, but has also volunteered to accompany the government in the fight against the pandemic, achieving the dual goals safely. Proper orientation and constant efforts helped Phuc Khang pass strict rounds of evaluation, meeting 100 criteria in the Corporate Sustainability Index (CSI), which officially ranks Vietnam's top 10 sustainable businesses. The criteria have been derived from international standards and current Vietnamese regulations on management index, communities, the environment, labor, and the results of sustainable development.
The Phuc Khang Corporation is now a business ecosystem, including companies in Construction, Education, Commerce, and Consumer Goods, with Real Estate being at the core. Not only does it make every effort to build authentic green living spaces certified by strict international criteria but also builds green and humanistic communities that contribute to the national goal of sustainable development. Demonstrating a clear determination "For a greener more civilized and traditional Vietnam" integrated in real estate projects, Phuc Khang aims to provide optimized solutions for living spaces that are ecological, economical, and energetic. Its responsibility and these activities explain why Phuc Khang has achieved considerable success in this market. At the end of November, its high-class apartments - Diamond Lotus Riverside by Phuc Khang Corporation - were awarded LOTUS PROVISIONAL CERTIFICATION by the Vietnam Green Building Council.
It is also a typical organization accompanying the Vietnam Energy Efficiency Building Week and the Vietnam Green Building Week in 2021, having left an indelible mark on the journey to pioneering and promoting green real estate and the economical and efficient use of energy in Vietnam.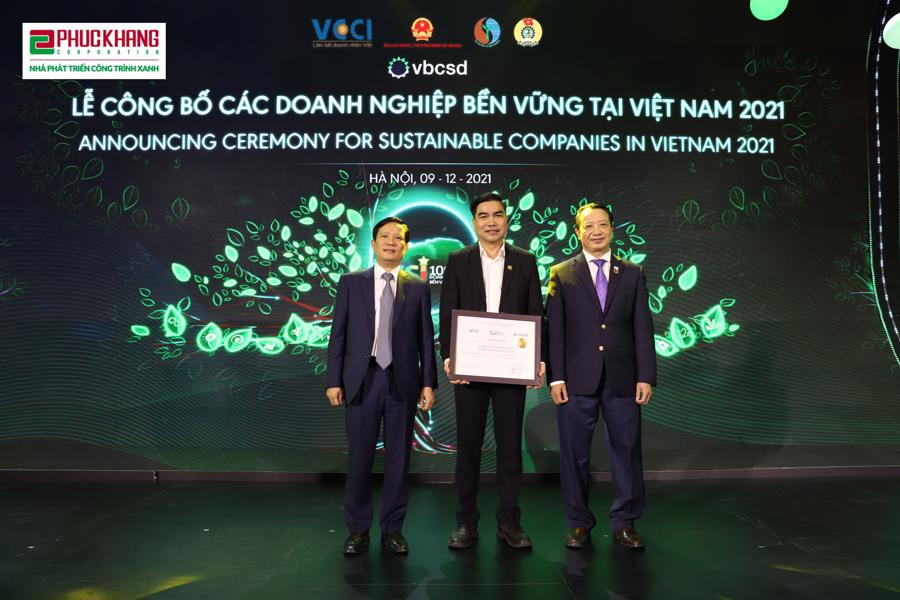 In addition to a proper strategy for business and development that brings a lot of value to residents and pioneers an authentic green lifestyle reflecting a philosophy of "Creativity for humanity's sake", the Phuc Khang Corporation has also showed great devotion to business consolidation by professionally planning its restructuring and digital transformation and taking good care of its staff. Guidance on looking after the health and well-being of staff members during social distancing was provided regularly by the Phuc Khang Corporation, such as maintaining a full-pay work-from-home policy, providing clean vegetables and vaccinations, and organizing online training sessions and talk shows in order to connect, encourage, and uphold positive energy among staff. Last but not least, policies and timely activities were introduced to take care of staff in quarantine or in lockdown areas.
In particular, to fight against the serious impact of Covid-19 in 2021, the Phuc Khang Corporation accompanied the government, organizations, frontline medical forces, and people to achieve the dual goals safely, both fighting the pandemic and adapting flexibly to develop the economy. During the fourth outbreak of Covid-19 in Ho Chi Minh City, Phuc Khang launched "The green heart of Giftivism" campaign - a heart-to-heart appeal for meaningful humanitarian CSR activities for the community. Tens of billions of VND were given in donations or sponsorship to frontline hospitals, and thousands of gifts of necessities delivered to people facing hardship from Covid-19, as well as tens of thousands of nutritious meals, oxygen ATMs, and medicine packages for F0 patients. Thanks to its spirit of "Giving compassionately" and "Giving responsibly", at the 17th anniversary of Vietnam Entrepreneurs' Day held by the Ho Chi Minh City Union of Business Associations (HUBA) on October 13, the Phuc Khang Corporation received a certificate of recognition signed by the Chairman of the Ho Chi Minh City People's Committee for businesses that contributed towards the fight against the pandemic with the city while implementing the dual goals.
With the great honor of being among the top 10 leading businesses in sustainable development in Vietnam in 2021, Mr. Tran Tam, Chairman of the Phuc Khang Corporation, said it is meaningful recognition from the government, ministries, departments, business communities, organizations, and society of Phuc Khang's efforts on its green journey to sustainable development. "We are proud of being the pioneer in developing green buildings in Vietnam's real estate market," he added. "During our establishment and development, we always bear in mind that only when the country, the city, and the society is 'healthy' can business communities and businesses have ideal conditions and environments to develop. Consequently, in the course of undertaking the mission of 'Pioneering and promoting the creation of a better lifestyle for public health and a sustainable humanitarian ecological environment in accordance with global green standards', Phuc Khang Corporation has gained a greener and more sustainable future." He also noted that being among the top 10 sustainable businesses in Vietnam in 2021 stems from the effort, creativity, and courage of all of Phuc Khang's people. "This is also motivation helping us to go further in good faith, with all hands on deck with other businesses to build up a sustainable and strong economy," he said.
The Phuc Khang Corporation was among the top 100 sustainable businesses in 2020, but one year later the green building developer has undergone an impressively complete transformation to be among the top 10 leading businesses in sustainable development in Vietnam in 2021. This remarkable result once again affirms the proper orientation and the well-planned development strategy of the Phuc Khang Corporation's board of directors and its staff's devotion and effort. This award is both recognition and an opportunity for Phuc Khang as well as other businesses to improve their prestige and competitive competence in international communities, to gradually conquer new challenges and bring Vietnamese brands to new heights.