Shares in the Saigon - Hanoi Bank (SHB) will be transferred to the Ho Chi Minh Stock Exchange (HoSE) from October 11.
The step forward, which SHB's General Meeting of Shareholders approved earlier this year, has been implemented in a series of outstanding plans.
A month earlier, SHB officially reached an agreement to transfer shares of its subsidiary, SHB Finance, to Thailand's Krungsri, a strategic member of the MUFG Group in Japan. The deal is expected to bring in about VND3.6 trillion ($160 million), according to Nikkei.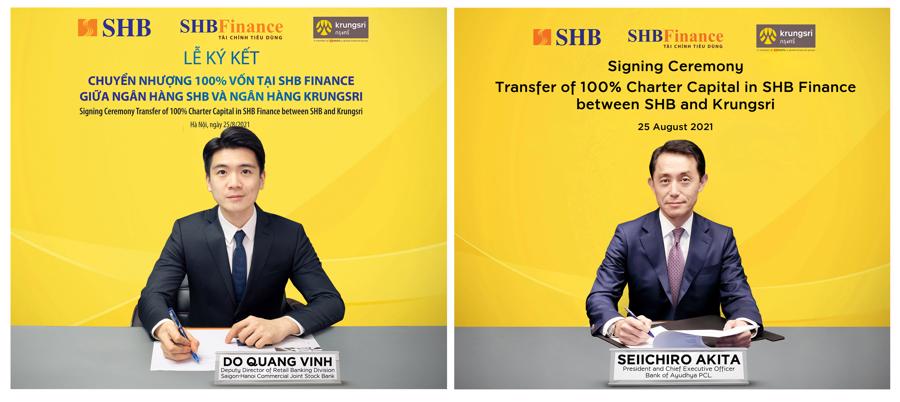 Before the SHB Finance deal brought a large surplus, the charter capital of the parent bank also received an additional boost through a dividend payment plan completed in June, increasing to VND19.26 trillion ($856 million).
Ahead of the HoSE listing on October 11, another big plan of SHB was approved by the State Bank of Vietnam (SBV): continuing to pay a 10.5 per cent dividend and implementing a plan to offer shares to existing shareholders to increase its charter capital.
The plan has been determined and the steps implemented. The above series of plans taking place in 2021 make it a special year in SHB's 12-year listing journey.
Affirming a new position
The special feature of these plans is not only reflected in the frequency of major steps taken, in particular during the challenging Covid-19 pandemic, but more importantly in the value of elevating and affirming SHB's new position.
Domestically, SHB has been a typical commercial bank in ensuring the interests of shareholders and investors throughout its 12 years of listing, regularly paying dividends even during the difficult first years after the merger with Habubank.
Notably, a special feature of the stock and quite unique among listed companies is that its profit has increased with each recent dividend payment period. A prominent fact on the exchanges recently is that the stock price of many commercial banks has declined after paying dividends or issuing more capital, but at SHB, there have been successive growth steps, and the price is even higher than before paying the dividend.
At this time, SHB is adopting a dual plan in making a new dividend payment associated with the plan to offer shares to increase capital. It is expected that the bank will increase its financial strength, while its market capitalization will continue to rise.
In order to achieve differentiation and boost the benefits to shareholders and investors, SHB has long been focusing on handling requirements after the merger with Habubank ten years ago, then quickly closed all debts sold to the Vietnam Asset Management Company (VAMC), fully complying with the Basel II standards ahead of time and proactively moving towards Basel III.
SHB's business results in 2020 and the opening quarters of this year show new growth and a new position as a safe and effective commercial bank.
A breath of fresh air on HoSE
The positive business results have confirmed the positive view of the impressive price increases in SHB's shares in the opening months of this year.
At the end of March and during April, Vietnam's stock market experienced difficult trading sessions, with the VN-Index posting sharp declines. However, the explosive trading period for SHB in both price and volume inspired the market. This was not random. The stock had an impressive upstream and sudden growth in 2020, creating "explosive points" to inspire investors at a difficult time in the market.
Of course, inspiration and influence must come from a big stock. For shareholders and investors, SHB is known as the "Liquidity King" because of its leading transaction size in the market throughout its 12-year listing history.
Figures show that, with a market capitalization of more than VND50 trillion ($2.2 billion), ranking its second on HNX and equal to 18.38 per cent of the exchange's total capitalization, SHB has contributed an average of about 10 per cent of trading value on the exchange and there were many sessions where this reached over 30 per cent. During the boom times, the transaction scale at SHB was up to 50-70 million units, with a value exceeding VND1 trillion ($44.4 million).
With that influence, especially during the impressive growth of stock prices in 2020 until now, it is predicted that SHB will be a breath of fresh air and a new inspiration on HoSE when it moves on October 11.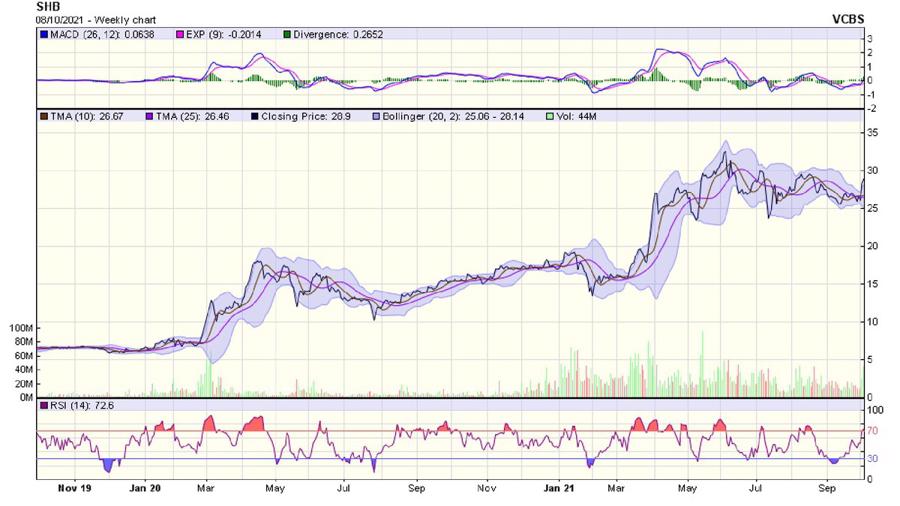 With the new listing, SHB has more conditions to absorb new motivations to spread inspiration to the market and investors, because listing on HoSE is an important criterion in attracting investors and Exchange-Traded Funds (ETFs).
With the results it has recorded, HSB is a candidate for the VN30-Index and other leading indexes on Vietnam's stock market.
There is a new expectation about SHB moving to the new exchange. Whether the expectation is reasonable or not depends on the basic values of the listed company. Here the expectation is in a commercial bank undergoing strong transformation, both in business efficiency and operational strategy.
In 2021, SHB continues to set a positive profit growth plan compared to 2020. Results for the first half of the year were as planned. SHB has been gaining new motivation from capital raising steps, increasing its financial strength with a surplus from the sale of shares in SHB Finance and the prospect of having more companionship from foreign strategic shareholders after the recent step of temporarily locking down its foreign ownership ratio at 10 per cent.
According to SHB leaders, the official move to trade on HoSE is also a milestone marking the period when the bank focuses all of its efforts on development and digital transformation with a vision to 2030 to become the region's leading modern and efficient retail bank.
Looking back at plans that have been cemented and will continue to be cemented, with internal resources constantly being strengthened, the goal and vision of SHB are expected to quickly be realized.