The 7th Singapore Regional Business Forum, held in Hanoi in July, was the first edition of the Singapore Business Federation (SBF)'s flagship event to be held outside of Singapore. According to Mr. Kok Ping Soon, CEO of the SBF, it selected Vietnam as the destination for the event to commemorate 50 years of diplomatic relations and ten years of a Strategic Partnership between the two countries. The Forum provided an opportunity for businesses and individuals from Singapore and Vietnam to celebrate the significant progress made over the last five decades.
Largest investor
Economic cooperation has been the cornerstone of the bilateral relationship, according to H.E. Jaya Ratnam, Ambassador of Singapore to Vietnam. "Vietnam has consistently been one of Asia's top performers," the Ambassador said. "Singaporean businesses are confident in Vietnam's long-term economic prospects. Hence, since 2020, Singapore has been one of Vietnam's top sources of foreign investment. This is a vote of confidence in its future."
Figures from the Foreign Investment Agency at the Ministry of Planning and Investment reveal that in the first eight months of this year, Singapore was the biggest foreign investor in Vietnam among the 94 countries and territories with investments in the country, posting $3.833 billion, up 84.6 per cent year-on-year. It now has 3.343 valid projects with capital of $72.6 billion, ranking it second after South Korea.
Vietnam continues to be an attractive market for Singaporean investors, said Mr. Kok. As one of the fastest-growing Southeast Asian economies, Singaporean companies are attracted to Vietnam's economic potential, large domestic market, growing middle class, and highly-educated, skilled, and increasingly tech-savvy population.
Furthermore, as Vietnam has transitioned from a production to consumer market, Singaporean businesses are looking for opportunities, such as through merger and acquisitions (M&As). As a sign of increasing interest, Singaporean venture capital funds have also stepped up in Vietnam through investment in local startups. For example, Dat Bike, an electric motorbike startup, raised $8 million in a funding round led by the Singapore-based Jungle Ventures Fund.
Having been in Vietnam for almost three decades, real estate group CapitaLand is very optimistic about the country's investment environment. According to Mr. Ronald Tay, CEO of CapitaLand Development (Vietnam), with a large and young population, a stable political system, and a vibrant business landscape, Vietnam is one of the fastest-growing economies in Southeast Asia. It capitalizes on positive macro trends, such as robust economic growth driven by rapid urbanization and industrialization and a youthful workforce. Vietnam is also a strategic partner of Singapore, with strong bilateral ties in trade, investment, tourism, and education.
"We are proud to be one of the largest Singaporean investors in Vietnam, with a diversified portfolio comprising one retail mall, one SOHO [Small office, Home office] development, three integrated developments, over 13,000 quality homes across 17 residential developments, and nearly 9,000 lodging units in operation and in the pipeline in 33 properties," Mr. Tay said. "Leveraging the extensive portfolio we have established in previous decades, we are keen to generate more value for our stakeholders and contribute to the socio-economic progress of Vietnam."
As a dynamic and fast-growing market, Vietnam offers both opportunities and challenges for CapitaLand Development. "We have enjoyed strong demand, favorable policies, and local support for our quality real estate products and services," Mr. Tay went on. "Our investments in Vietnam have been supported and facilitated by authorities over the years, and we are proud to contribute to the local economy and society through our projects. We believe that Vietnam is a significant market for many Singaporean businesses, as it offers long-term promise and potential. We hope the Vietnamese Government will continue to provide a stable, transparent, and conducive business environment for foreign investors, especially in the real estate sector. We look forward to strengthening our cooperation with the government and other stakeholders to explore new opportunities and address common challenges in Vietnam."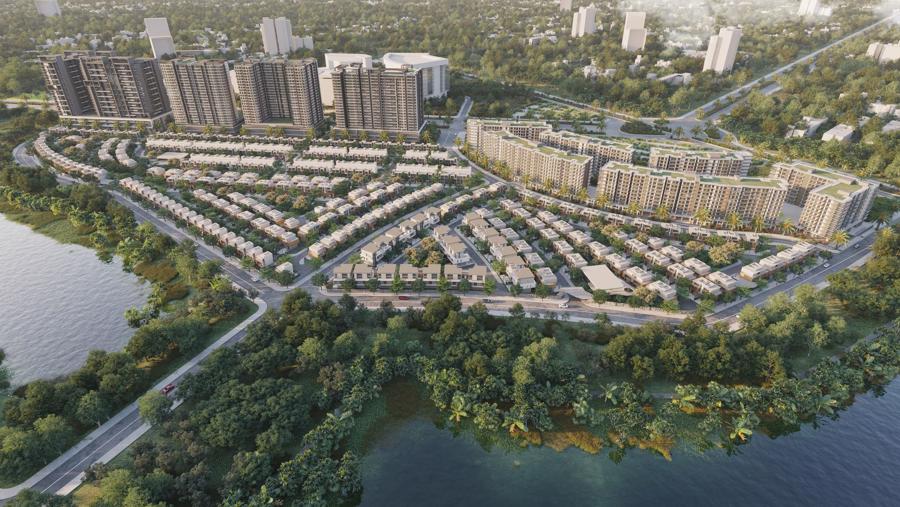 Green and digital partner
As the two countries are focusing on new growth areas and sharing a common vision of achieving net-zero emissions by 2050, the signing of their MoU on Green-Digital Economic Partnership in February marks a new milestone in bilateral relations.
"This Partnership is an umbrella framework, which upgrades our bilateral relationship by focusing on energy, sustainability, infrastructure, the digital economy, and innovation, as well as connectivity," said Ambassador Ratnam. "This will not only support the green and digital aspirations of both our countries, but will also allow our cooperation to serve as a pathfinder in ASEAN."
"The signing of these agreements signals a common desire by both countries to accelerate cooperation in the digital and green economies," Mr. Kok noted, adding that these are also key areas where SBF has been supporting Singaporean companies to build capabilities and seize new opportunities. For example, the VSIP Group signed MoUs earlier this year on cooperation in developing smart and sustainable VSIPs (Vietnam - Singapore Industrial Parks) with nine cities and provinces in Vietnam, which is a concrete step towards realizing the partnership. Such new-generation IPs are expected to bring growth momentum to both countries. A separate agreement between Singapore's Sembcorp and the PetroVietnam Technical Services Corporation (PTSC) to implement offshore wind power projects for export to Singapore is also expected to bolster new cooperative and development prospects in renewable energy, especially in harnessing offshore wind power.
Sustainability is an important focus area of CapitaLand Development, according to Mr. Tay. "We follow the CapitaLand Sustainability Master Plan 2030, which guides us in greening all our developments in Vietnam by 2030, with each project meeting a minimum certification level. We also support the education and healthcare needs of vulnerable children in Vietnam through the CapitaLand Hope Foundation (CHF), CapitaLand's philanthropic arm. Since 2007, we have contributed to the construction and refurbishment of four CapitaLand Hope Schools and other school facilities to support the educational needs of children in rural communities in Vietnam."
Looking ahead
The fact that Vietnam is a dynamic and open market for all investors, not only those from neighboring countries in Southeast Asia but also globally, and that bilateral trade revenues between the two countries have been constantly increasing, reflects the stable investment trend from Singapore into Vietnam, said Mr. Norman Lim, President of the Singapore Chamber of Commerce Vietnam (SingCham Vietnam). "The close geographical proximity of Vietnam to Singapore is an added advantage in attracting more and more investment," he went on. "Coupled with its stable political and economic climate, we are confident that Singapore will continue to remain one of the top investing countries in Vietnam."
In regard to investment trends among Singaporean investors in Vietnam changing in the time to come, according to Mr. Kok, Singapore would like to cooperate with Vietnamese companies to help Vietnam's digital transformation, particularly in priority areas such as e-commerce, banking and finance, and cybersecurity. In the green economy, Singapore wants to work with Vietnam in its fair energy transition, with an eye towards zero emissions targets in both countries.
"We are looking to develop an electricity grid that links Singapore and Vietnam, which if done can become a model for electricity trade and cooperation in ASEAN," he said. "We are excited about the opportunities and resources that can be readily tapped. Vietnam's 3,260-km coastline has strong potential to produce solar and wind energy that can be exported to Singapore. For example, offshore wind power has significant room for growth in Vietnam, which is why Sembcorp will work with the PetroVietnam subsidiary to build an offshore wind power project."
For her part, Ms. Amy Wee, Country Head of the SBF in Vietnam, noted that with digital transformation as one of the key driving pillars for the Vietnamese Government, provinces are also embracing digitalization, not just major cities. Given this, the market extends beyond a physical presence in major cities. To make an impact, also having a presence in provinces is critical, and Singaporean investors are aware of that. "Hence, we see a rise in interest in developing away from major cities, and we encourage Singapore businesses to venture beyond these intensely-competitive areas."
Vietnam's economic potential, with its large domestic market, growing middle class, and highly-educated and skilled workforce, are inherently attractive factors for foreign investors, according to Mr. Kok. By improving the quality of its business environment and workforce, Vietnam will be able to sustain business interest as an investment destination. It is important that the Vietnamese Government take a consultative approach with enterprises and international business chambers to find ways for Vietnam to stay competitive in retaining and attracting FDI.