VinFast has officially launched the VF 6 model, its first electric vehicle (EV) in the B-SUV segment, in Vietnam.
The EV will be available in two trims: Base and Plus. From October 20, customers can place orders at VinFast dealerships or through its website.
VinFast will also display VF 6 models at dealerships nationwide from September 30, allowing customers to experience the EV before making a purchase. Deliveries are expected to commence at the end of the year.
The VF 6 is the next strategic model in VinFast's EV lineup, after the VF e34, VF 8, VF 9, and VF 5. It features a sophisticated design crafted by the world-renowned Torino Design, a spacious and comfortable interior for the whole family, powerful performance, and a wide range of smart technologies and features.
In early 2024, the VF 6 Plus will be updated free of charge to integrate the advanced driver assistance system, bringing more outstanding features.
The VF 6 is a high-quality EV equipped with advanced technology and smart features to meet the entertainment and utility needs of drivers.
In another move, Green SM, Vietnam's first pure electric taxi company, providing passenger transport entirely by VinFast EVs, plans to extend the green journey across 27 cities and provinces in Vietnam and three Southeast Asian countries by the end of 2023.
It plans to expand its fleet to 30,000 electric taxis and 90,000 electric scooters by the end of the year.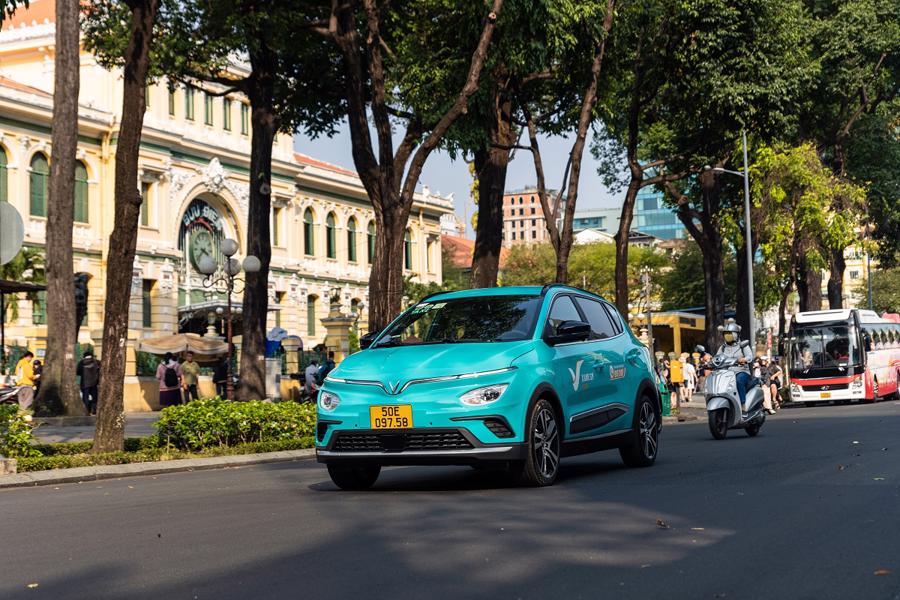 Green SM officially launched its ride-hailing services on April 14 and has rolled out electric taxis in 17 cities and provinces around the country.
It provides customers with two service options: GreenCar and LuxuryCar. GreenCar uses VinFast VF e34 vehicles in the company's signature Cyan blue, while LuxuryCar uses the VinFast VF 8 in the original color.
Initially, Green SM Taxi has 500 VF e34 vehicles and 100 VF 8s in Hanoi, and will soon add the VinFast VF 5 Plus to its fleet. Based on customer demand, it will increase the number of cars in both segments.
Green SM announced that it has reached 6 million rides after only five months of launch. This is a significant growth rate, firmly demonstrating the development potential as well as the solid foothold of Green SM in passenger transport.
"The impressive figures we have achieved today have affirmed our reputation and position in the green transportation revolution," said Mr. Thanh Nguyen, CEO of Green SM. "The trust and companionship of the community are the driving force for Green SM to continue conquering challenges and pursuing sustainable development goals in the future."
Green SM has contributed to changing public transportation and raising community awareness about environmental protection in Vietnam and the region.