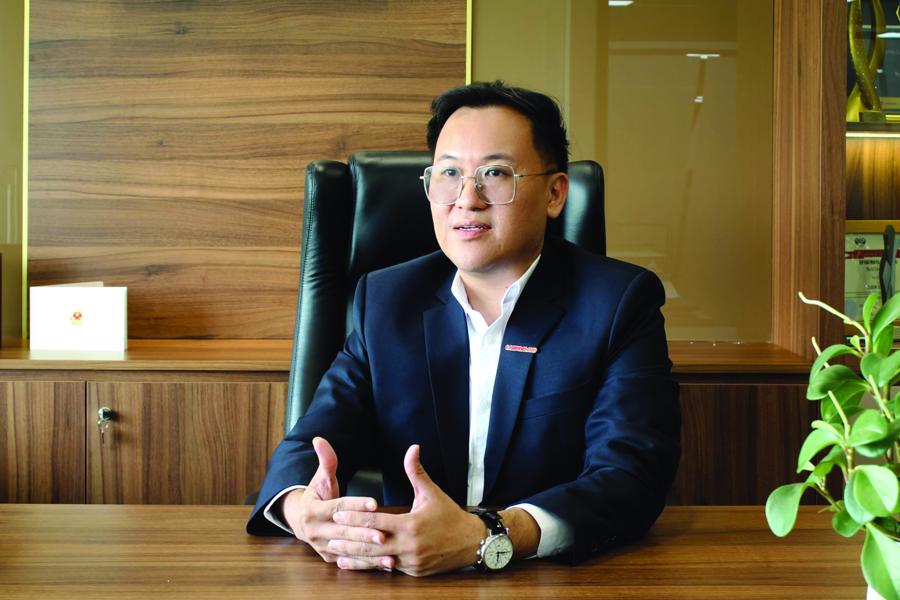 Green construction development is an inevitable trend around the world nowadays. What are your thoughts on the trend in Vietnam?
Over recent years I have heard a lot of foreign and also local developers in Vietnam talk about green construction and sustainable project development. This is a rising trend, and a very positive one.
However, to answer the question, I think the very first thing we have to discuss is what "green construction" is. A lot of so-called "green projects" in Vietnam in recent times emphasize greenery. But greenery is just one part of the story. There are many other features in creating a truly sustainable and green project, such as master planning, architecture, energy-efficient standards, and waste treatment technology, etc., and especially building material and construction technology, because concrete and brick manufacturing is one of the most polluting industries in the world. As it's responsible for more than 30 per cent of global carbon emissions and nearly one-third of all waste, the building and construction industry can help achieve climate goals and curb global warming by shifting to a circular economy model.
At Gamuda Land, we focus on the more efficient use of resources and a greater commitment to the environment by minimizing, or even eliminating, waste and pollution, and by improving efficiency. The circular construction approach encompasses everything from the design phase to construction, operations and maintenance, and, eventually, deconstruction.
In a nutshell, we have to care for every aspect of the development process and self-sustainability in a project to create a truly "green construction".
Many believe that the construction of green buildings increases costs as well as sales prices. Do you agree?
In my opinion, this is not a costly investment if it is carefully planned and features concepts in sustainable development from an early stage. For instance, at Gamuda Land, we are mindful of green measures in the initial stages of master planning. When we create the very first design sketch of an apartment or house, we have already looked into energy-saving concepts. In our projects, we try as much as possible to utilize natural ventilation and lighting. When we have natural ventilation and more natural lighting in a building, we can save a lot of energy use. The investment may be high in the beginning, but if you take the energy use costs and maintenance costs into account, you will see that you can actually save a lot of money in the long term.
It's also similar from the perspective of customers. Energy, water, gas, and fuel costs account for most living expenses. When you stay in a Gamuda Land house, with its abundance of natural ventilation and lighting, you will obviously save a lot of money on air conditioning and lighting. At Celadon City, construction density on the site is approximately 20 per cent and the remaining 80 per cent is greenery and infrastructure. The 16-ha central park at Celadon City is one of the largest in Ho Chi Minh City and acts as a "green lung". The density of green coverage is 12 sq m per person, or five-times higher than the average in the city. Right next door is the largest Aeon Mall in the city, where you can shop for anything just a few steps from your home. We have a living place, a shopping place, a playing place, parks, schools, and working places. This was our intention in master planning, and within the 82 ha of the project we have nearly 100 internal amenities to serve the daily needs of our residents. We want to encourage them to walk and cycle more, in order to create a green lifestyle in our township, since residents can reach every facility within just 5 minutes of their home. This is also a way to eliminate as much CO2 from vehicles as possible.
After 12 years of doing business in Vietnam, what has Gamuda Land done in following trends in green construction development?
One of our most important values is "Respect nature and the environment", and this is our project development philosophy. When we conduct our township master planning, the first thing we consider is what nature can do for us. We then try to reserve the natural environment of the site and promote biodiversity.
Twelve years ago, when we first arrived, the area in southern Hanoi was marshland full of sewage from Greater Hanoi. To turn the area into a desirable place to live and work, Gamuda Land built the largest sewage treatment plant in Vietnam, which now deals with more than 30 per cent of the wastewater in Hanoi. The plant had a transformational impact on the southern area of the capital, giving it a new lease of life and addressing pressing environmental issues to the point where fish now live in the lakes around Yen So Park.
In the south of the country, meanwhile, the site of Celadon City in the western reaches of Ho Chi Minh City used to be considered "forgotten land". It was slightly out of the way from the central area. Due to the lack of attention the land received, squatters had mushroomed in the area, and the lack of oversight made it a bit of a slum. From having little value, environmentally or economically, Celadon City nowadays has become the premier world-class township in western Ho Chi Minh City.
Biodiversity and sustainability are always the orientation we take. When biodiversity is robust, a site is not just a good place for human beings to live but also for flora and fauna. The outcome of this approach is clear to see, as Gamuda City and Celadon City are lovely ecological townships and places Vietnamese people are proud to call home, to be a part of, to grow up in and grow in. Our townships are becoming more vibrant every day, as a lot of residents are gradually settling down. This is our greatest and proudest achievement after more than a decade in Vietnam.
At Gamuda Land, our approach has to be strategic. We ask ourselves where we can make the most impact, and always start with sustainability at the very beginning, in the master planning stage. Being in the real estate business, we can clearly see that we can make the most impact in terms of concept planning and design. Responsible for more than 30 per cent of global carbon emissions and nearly a third of all waste, the building and construction industry can help achieve climate goals and curb global warming by shifting to a circular economy model.
Therefore, Gamuda Land's target is a 50 per cent reduction in carbon emissions by 2030 compared to other projects. In the years to come, we will introduce a host of new green construction initiatives, in how we master-plan our townships and how we bring Gamuda Parks into play with more urban forests and more tree planting. All of our future buildings will be designed to green and energy-efficient standards.
As an investor with a great deal of experience in building green projects, what recommendations would Gamuda Land like to make to the government on promoting green construction development in Vietnam?
The Vietnamese Government is making great efforts to pursue sustainable growth. For instance, just recently, it made a commitment at the COP26 gathering in Glasgow to achieve net-zero emissions. This is a wonderful and noteworthy initiative.
Transitioning to a green economy, for either a country or an organization, requires a multi-pronged approach. On Gamuda Land's path towards a green economy, we emphasize the need to adopt a strategic approach. We have to ask ourselves where we can make the most impact. No one group or country can do everything. It's a collective effort.
From our side, as a property developer, we do our best to pursue sustainable development concepts and ESG compliance, etc. to create more green and environmentally-friendly projects. If other developers were to share the same vision and act likewise, the real estate industry could offer significant support to the green growth strategy of the Vietnamese Government.
And from the authorities' side, the Ministry of Planning and Investment and the Ministry of Natural Resources and Environment are preparing a national action plan to reach the net-zero emissions target. I suggest that this plan include incentives for enterprises who commit to ESG compliance and sustainable development, such as tax reductions, low-interest loans, and investment and approval advantages, etc. This would provide a lot of motivation for businesses to pursue green and sustainable growth, and together we could then achieve the COP26 commitment.