Ambassador Cruise, one of Ha Long Bay's most remarkable cruise experiences, is poised to welcome its 200,000th passenger aboard its Ambassador Cruise II vessel by the end of 2023.
"Welcoming our 200,000th passenger aboard Ambassador Cruise II in such a short time is a major milestone and testament to how we have redefined cruising on Ha Long Bay," said Mr. Nguyen Cao Son, Chairman of the Asia Premier Cruises (APC) Corporation, which owns Ambassador Cruise. "By pioneering a luxurious day cruise and dinner cruise we have played a notable part in expanding Quang Ninh's tourism industry post-Covid. Attracting more than 69,000 passengers from January 1 to October 31 this year, our dinner cruise alone contributed 70 per cent of the total number of passengers to the Ha Long International Cruise Port in the evening among the four cruise operators."
To celebrate its 200,000th passenger, Ambassador Cruise II will hold a small party aboard with all of the cruise's guests, and distribute dinner vouchers as lucky draw gifts during a mini game. The 200,000th passenger will be presented with a gift voucher of two tickets to attend a live show on Ambassador Dinner Cruise.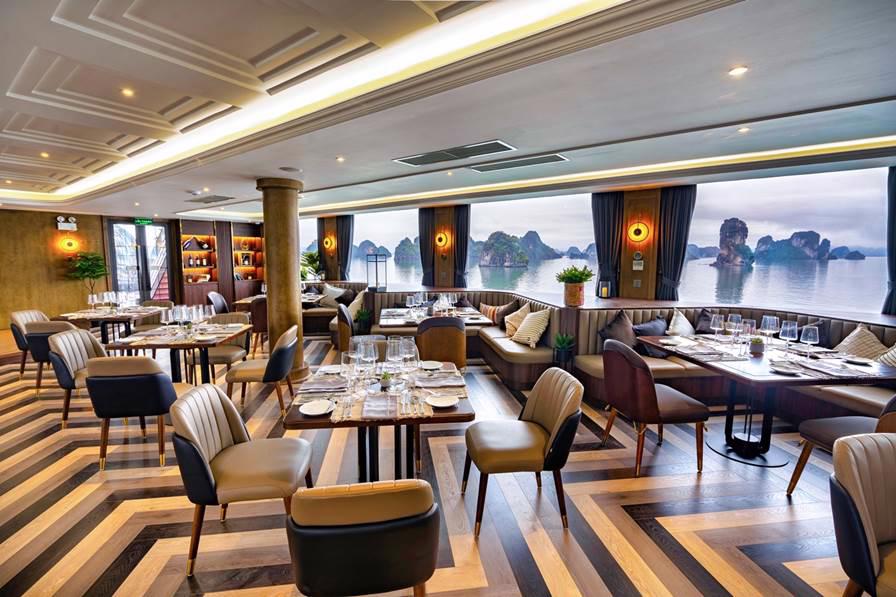 Launched in February this year, the luxurious Ambassador Cruise II offers an eight-hour day cruise and a four-hour dinner cruise, hosting nearly a thousand guests each day in peak periods.
The vessel has helped drive a tourism bonanza for Quang Ninh province, attracting more than 156,000 passengers, for 13 per cent of the estimated 1.2 million visitors to the Ha Long International Cruise Port from January 1 to October 31 this year. Combined with Ambassador Cruise's overnight cruises, Ambassador Cruise I and Ambassador Signature Cruise, it is estimated that Ambassador's fleet will contribute 18 per cent of the total number of passengers at the cruise port by the end of the year.
Exuding elegance, the Ambassador Cruise II boasts gracefully-designed spacious sundecks spanning 324 sq m and 250 sq m across two levels, offering breathtaking 360-degree panoramas of Ha Long Bay and its stunning limestone karsts. With two restaurants, two bars, an entertainment area hosting live music, and a large open-air jacuzzi, the 45-cabin vessel provides top-notch amenities.
The 500-ton five-floor steel craft with basement measures 90 meters long, 16 meters wide, and 19 meters high, making it the largest and most luxurious ship to ever ply Ha Long Bay's waters, with a total of 10,000 sq m of lettable space. Ambassador Cruise is the only Ha Long Bay cruise line to include an elevator system for the elderly and people with disabilities.