Diamond Lotus Riverside, on Le Quang Kim Street in District 8, Ho Chi Minh City, is the first high-rise apartment block in Vietnam to be built under LEED standards from the US Green Building Council (USGBC) and the LOTUS standards from the Vietnam Green Building Council (VGBC) by a local investor, the Phuc Khang Corporation. The building has been registered at the GOLD level in both systems.
The total area of Diamond Lotus Riverside is 16,800 sq m, with a construction area of 3,200 sq m. Its building density is 19 per cent, and includes three blocks connected by two rooftop bridges. There are two basements and 22 floors, two or three of which are commercial space and 20 are for 760 residential apartments. There is also a rooftop Skypark - an enormous penthouse for residents with 360-degree views of the city center - and an 8,000 sq m riverside green park with a preserved ecosystem.
With a great deal of effort made, from design and construction to operation and transfer, the Diamond Lotus Riverside green apartments were awarded LOTUS PROVISIONAL CERTIFICATION. LOTUS is a set of voluntary green building rating systems developed by the VGBC, a project from the non-profit Green Cities Fund based in California. In order to achieve LOTUS GOLD certification for Diamond Lotus Riverside, the Phuc Khang Corporation not only passed a critical assessment on sustainable development and long-term cost-effective matters for residents but also practiced corporate social responsibility.
To the great joy of the Phuc Khang Corporation and Diamond Lotus Riverside, Ms. Pham Thu Hang, Chairwoman of the VGBC, expressed tremendous respect for the fact that the Corporation is a pioneer in supporting and bringing values in green buildings to Vietnam. Upon earning LOTUS certification, the investor will receive three major benefits, she said. "First, engaging in corporate social responsibility to enhance society and the environment by degrading the carbon footprint or ecological footprint of the project," she explained. "Second, the standards for green buildings, especially LOTUS green buildings, pay great attention to providing appropriate microclimate conditions, heat comfort, light comfort, and sound comfort for residents. They will then feel that their living environment is more beautiful and happier. And third, the standards of green buildings, especially LOTUS green buildings, encourage the use of various strategies to reduce their overall energy consumption. The standards for the minimum energy efficiency of buildings help us reduce our carbon emissions and monthly electricity bill, bringing long-term cost-effective matters to residents. So, LOTUS certification brings three benefits: Environment - Social - Economic to the Phuc Khang Corporation's projects." She hopes that Phuc Khang's success will encourage other businesses in Vietnam to invest in developing green buildings for environmental and community sustainability.
At the ceremony presenting LOTUS PROVISIONAL CERTIFICATION to Diamond Lotus Riverside, CEO of the Phuc Khang Corporation, Madam Luu Thi Thanh Mau, expressed her gratitude to the VGBC for its companionship with businesses, including the Phuc Khang Corporation, to build up green buildings to serve the community and to bring sustainable values to the environment and society. She also expressed her feelings of pride in "the spiritual child" receiving certification. "Though it is just provisional, my emotions have been captured because the values the Phuc Khang Corporation has been pursuing have been recognized," she said. "This is a special milestone for Phuc Khang, affirming that Diamond Lotus Riverside has appropriate strategies in design and calculations to achieve LOTUS GOLD from the very beginning."
Diamond Lotus Riverside, she continued, achieved such an important milestone thanks to the devotion and hard work of many staff, advisors, and partners of the Phuc Khang Corporation. Critical assessments, especially the LOTUS assessments by the VGBC, were strictly applied in each and every phase. All efforts aim at building an authentic green lifestyle in a peaceful atmosphere, and a humanistic ecosystem-friendly community for residents.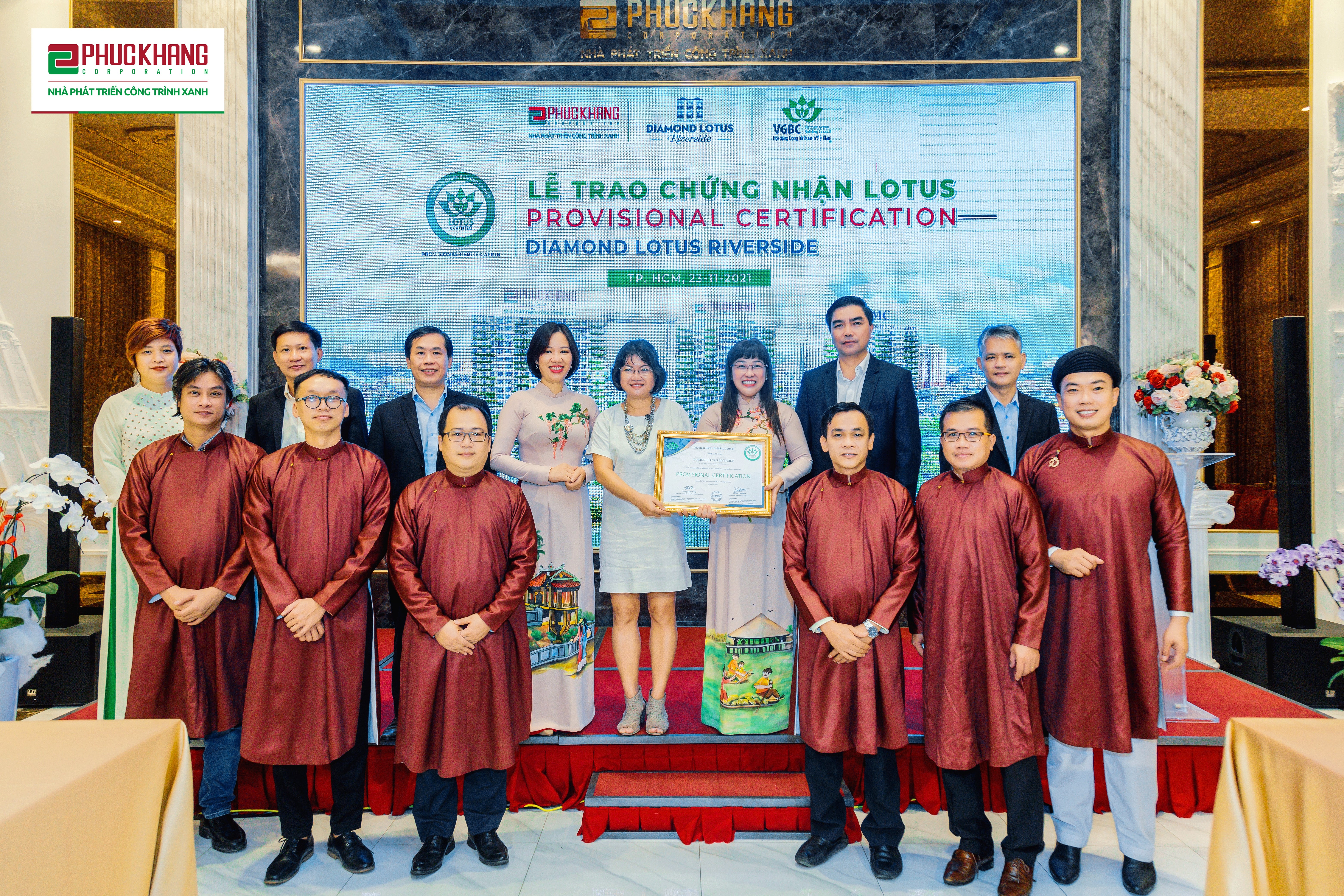 With determination "For a greener and more traditional Vietnam", the Phuc Khang Corporation has made its best efforts recently to build authentic green living spaces certified by international critical assessments. Despite not being a global business just yet, Phuc Khang is proud of adopting a global mindset. And despite not delivering a Vietnamese brand globally just yet, Phuc Khang has been successful in delivering a global essence to Vietnamese brands. Within its real estate products, including Diamond Lotus Riverside, are not only requirements for trees, gardens, parks, and lakes but also other green elements such as natural lighting and air, green materials, sustainable materials, savings on energy, electricity, and water, and reductions in carbon emissions and garbage. In its 12 years of establishment and development, the Phuc Khang Corporation has become a branded and influential company in investment and development. This LOTUS PROVISIONAL CERTIFICATION once again affirms it has taken the appropriate path to delivering its mission to: "Pioneer and promote the creation of a better lifestyle for public health and a sustainable humanistic ecological environment in accordance with global green standards."