With the goal of becoming a $5-trillion economy by FY2026 and achieving the mission of a self-reliant India, India welcomes Vietnamese investors to explore its investment environment and cooperate with its businesses, Indian Deputy Ambassador to Vietnam Subhash Gupta told the India-Vietnam multisectoral business interaction event on May 25 in Hanoi.
The event was organized by the Indian Embassy in Vietnam on the occasion of a visit to Vietnam from May 22 to 27 by a high-profile delegation from the PHD Chamber of Commerce and Industry (PHDCCI), consisting of representatives from various sectors such as information technology, construction, logistics, renewable energy, health, and education.
Speaking at the opening of the event, the Deputy Ambassador said that after more than 50 years of diplomatic relations, trade and investment between Vietnam and India have seen positive progress. In 2022, bilateral trade reached a record $15 billion, with Vietnam's export turnover to India reaching $7.9 billion, up 26.7 per cent year-on-year, while its imports from India were estimated at $7.1 billion, up 1.7 per cent.
"The visit to Vietnam by over 20 Indian enterprises in multiple industries proves the need for trade and investment cooperation between Indian and Vietnamese enterprises," the Deputy Ambassador emphasized.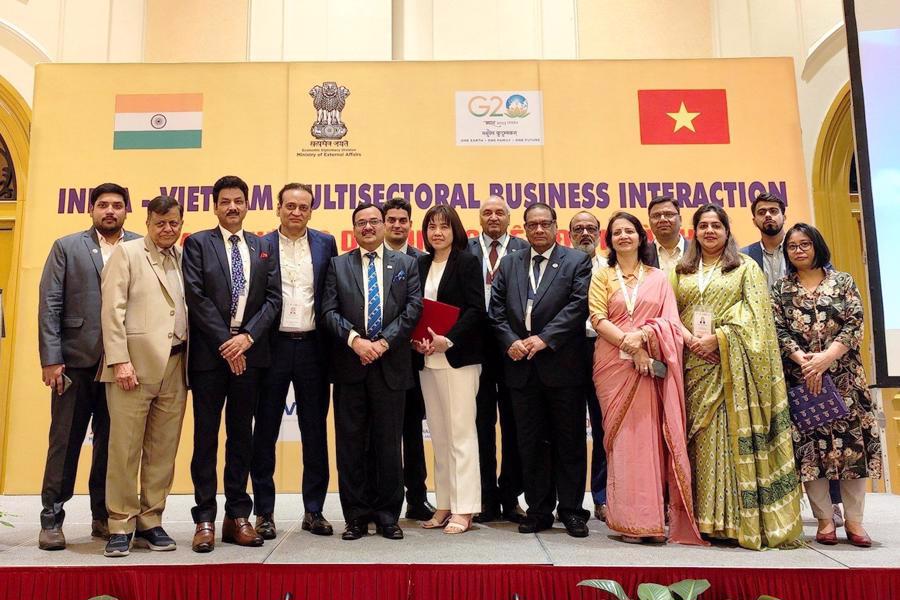 Appreciating Vietnam's economic growth over recent years, Mr. Indronil Sengupta, Chairman of the Indian Business Chamber in Hanoi, said it is one of the fastest-growing economies in the world and becoming one of the most attractive destinations for foreign businesses.
"With a young population of 100 million, rising incomes, and increasing consumer demand, Vietnam offers huge opportunities for businesses," he said. "The government has undertaken bold reforms to improve the ease of doing business. Administrative procedures have been simplified, entry barriers lowered, and restrictions on foreign investment eased."
For Indian companies, Vietnam offers an attractive overseas market and manufacturing hub. There is significant potential for further growth, especially in areas like agriculture, IT, pharmaceuticals, textiles, tourism, and education services. Furthermore, Vietnam offers an attractive business environment for Indian companies, with political stability, economic reforms, a large consumer base, and strategic access to ASEAN and trans-Pacific markets.
"There are enormous opportunities for cooperation in almost every sector, and events such as today's interaction can play an important role by connecting businesses and policymakers," he noted.
For his part, Mr. Tran Quang Huy, Head of the African-West and South Asian Market Department at the Ministry of Industry and Trade, called on Indian companies and investors to pursue investment and business opportunities in Vietnam. "This is an opportunity for companies from both sides to approach potential partners, expand, and diversify import-export markets."
In discussing the reason for the visit to Vietnam, Dr. Ranjeet Mehta, Deputy Secretary General off PHDCCI, said that during India's G20 Presidency in 2023, the PHDCCI is responsible for the development of the startup community. Therefore, the organization of business exchanges plays an important role in PHDCCI's strategy, especially in markets of potential like Vietnam. In particular, he said, more Indian business delegations are expected to come to Vietnam over the next six months to learn about its investment environment and seek cooperative opportunities with local enterprises in sectors such as healthcare, pharmaceuticals, renewable energy, infrastructure, agriculture, and electronics.
Participants at the event from both countries held B2B interactions to discuss cooperative potential and also took to the stage to present their business activities.