Far Eastern Polytex Vietnam (FEPV) is cooperating with AEONMALL Vietnam to collect and recycle used polyethylene terephthalate (PET) bottles (post-consumer recycled bottles) at AEON Malls in Binh Tan district in Ho Chi Minh City, Binh Duong province, and Ha Dong and Long Bien districts in Hanoi from May 27 to June 5 to celebrate World Environment Day on June 5.
FEPV is a subsidiary of the Far Eastern New Century Corporation (FENC), a sustainable polyester manufacturer that has been a pioneer in promoting the circular economy for more than 30 years and become one of the leading companies in the world for recycled PET resin compliance with food contact packaging, owning production sites spanning in all over the world and securing food contact approvals from the US FDA, EFSA in the EU.
FENC has been recognized by global beverage brands as a sustainable and reliable partner on their "green" journey, offering recycled solutions across land, ocean, and air. In 2021, it recycled more than 20 billion PET bottles and cut over 580,000 tons of carbon dioxide emissions.
This is the second year that FEPV and AEONMALL Vietnam have cooperated in collecting PET bottles and raising consumer awareness. Excellent results were seen at the event in 2022, with the participation of approximately 9,000 people and the recycling of over 21,000 PET bottles. In 2023, beyond joining meaningful activities in the south of the country, FEPV and AEONMALL Vietnam will also activate cooperation with AEON Mall Long Bien and Ha Dong in Hanoi. The total number of gifts from FEPV for these activities is up to 5,500 pairs of socks made from 100 per cent recycled post-consumer PET bottles.
In particular, at AEON Mall Binh Tan this year, FENC will bring a whole new experience in smart plastic vendor machines that collect and process PET bottles. The vending recycling machine program has been successfully applied in many countries in Eastern Asia and now Vietnam.
With over three decades of experience in PET recycling and applications, FENC has successfully expanded its footprint in Vietnam for more than eight years and constantly aims for sustainable development, It has been promoting recycling production from PET bottles to reach the goal of a green, clean, and beautiful Vietnam!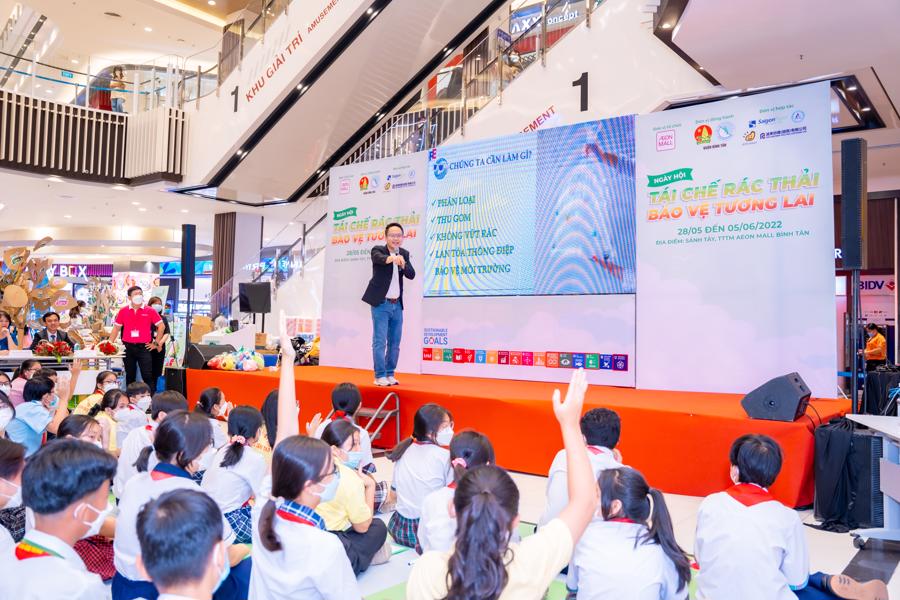 The PET recycling plant project in southern Binh Duong province has an annual capacity of up to 35,000 tons, will be operational in the near future, and is the largest PET recycling project in the country. On the occasion of World Environment Day on June 5, with the theme "Recycling waste, creating future 2023", together with partners Tetra Pak, Corelex, ECO Vietnam, and Tagom, recycling activities will be spread out to collect waste to receive special gifts, to boost awareness in the community about the importance of sorting, collecting, and especially recycling PET plastic waste.
By joining events with FEPV, customers can participate in exchanges of PET bottles for high-quality socks from FENC made from 100 per cent recycled PET plastic. There will also be activities to introduce children to recycling in daily life. FEPV is sharing its recycling experience and how to recycle bottles into high-value-added products.
To "Join hands for sustainability", FEPV is making great efforts to contribute to Vietnam's economic development and green environment.