The number of Ultra High Net Worth Individuals (UHNWIs) in Vietnam almost doubled between 2017 and 2022, according to the latest edition of The Wealth Report, Knight Frank's flagship publication.
From 583 individuals in Vietnam with a net worth in excess of $30 million in 2017, the number rose to 1,059 by the end of last year, representing growth of 82 per cent. Knight Frank predicts the number will grow to just under 1,300 by 2027, an additional 22 per cent growth, for growth of 122 per cent over the last decade.
This is mirrored by growth in the High Net Worth Individuals (HNWIs) category for the country, which saw individuals with a net worth exceeding $1 million grow 70 per cent in the past five years and estimated to grow by an incredible 173 per cent in the decade from 2017-2027.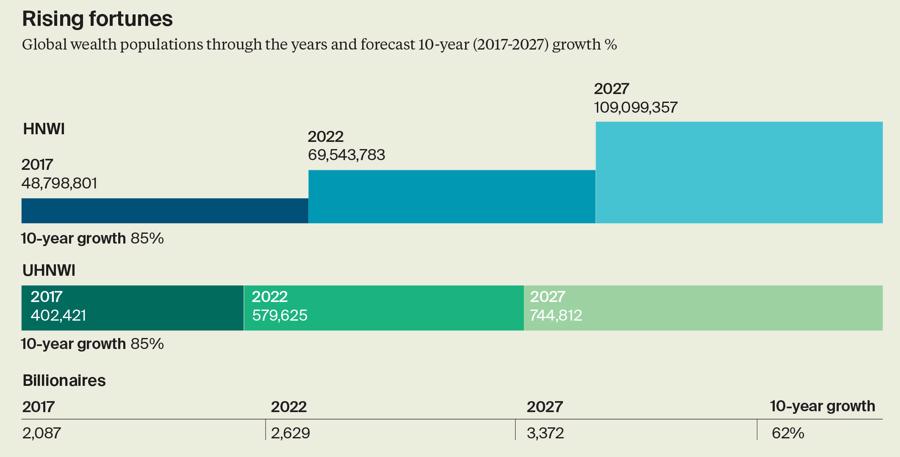 This is part of an Asia-wide growth trend that saw Singapore, Malaysia, and Indonesia rank in the top 10 fastest-growing UHNWI markets in the world, with their wealthy population expanding by 7-9 per cent. In Asia-Pacific, the ultra-high-net-worth population experienced substantial growth of nearly 51 per cent within the period spanning five years leading up to 2022. Though growth is forecast to slow to 40 per cent over the next five years, the region still leads the world in wealth creation.
"According to the latest issue of The Wealth Report by Knight Frank, the Asia-Pacific population of UHNWIs declined by 5.7 per cent in 2022, after a record climb of 7.5 per cent in 2021," said Ms. Christine Li, Head of Research at Knight Frank Asia-Pacific. "Taking a longer view, the wealth story remains compelling as the region will continue to lead the pack in the unending wealth expansion with plenty more opportunities for UHNWIs to discover."
"While the UHNW population contracted last year, the number of HNWI, those with $1 million or more in net assets, expanded 2.9 per cent to almost 70 million worldwide," said Ms. Victoria Garrett, Head of Residential at Knight Frank Asia-Pacific. "The top 3 countries for growth in HNWIs were Malaysia, Brazil, and Indonesia. The top 10 global locations for forecasted growth are dominated by European and Asian economies. The region's economic growth story will remain urban-centric, and its residential investment landscape will continue to be defined by its prime urban cores. Underpinned by its high rates of urbanization, investors can look forward to a more sustainable growth trajectory and wealth preservation profile."