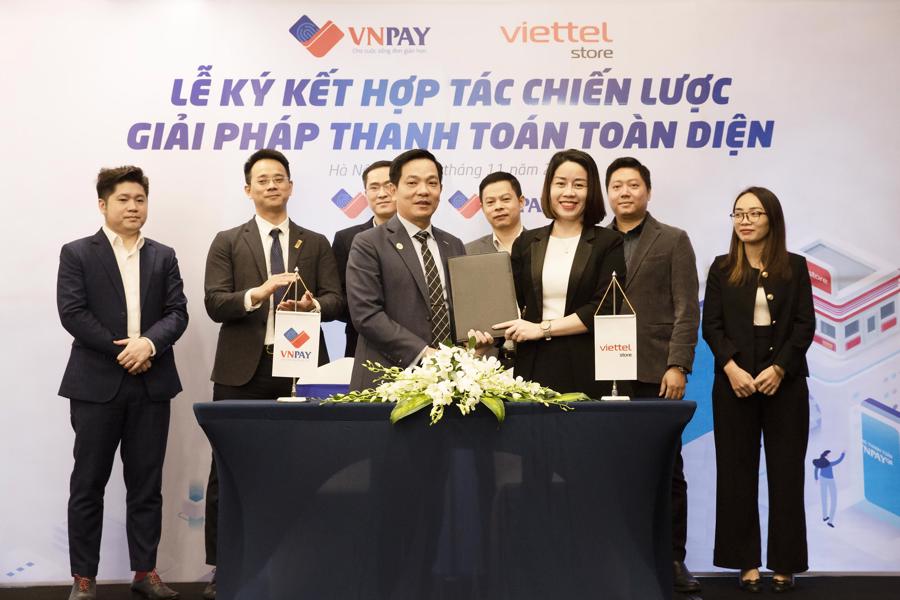 VNPAY-POS - The "All-in-One" payment solution for enterprises
VNPAY-POS, developed by VNPAY, is a comprehensive solution integrated into a Smart POS device and with outstanding features: wireless connection to merchants' systems, order placing, payments, and invoice printing. This single device meets all modern payment needs and helps enterprises in operations, cost optimization, and revenue growth.
VNPAY-POS accepts many types of cashless payments, including bank card payments (magnetic cards, chip cards, and contactless cards), and VNPAY-QR payments, which are accepted by using more than 30 of the most popular mobile banking apps and nine e-wallets. Consumers can therefore make payments more securely, quickly, and conveniently.
Equipped with Secure Android firmware, the device not only boasts a large multitouch screen display but is also easily connected to Bluetooth, wifi, 4G, and NFC (near-field communication), and features a camera to scan barcodes, allowing consumers to make payments with absolute ease. Merchants can also optimize the management of sales and operation as well as reduce time, cost, and human resources.
The solution provides many outstanding features to help enterprises develop and manage their business effectively. The function of synchronizing payment information between the ERP system (business administration) of Viettel Store and Smart POS helps reduce time and cost in business operations while limiting errors during the data processing process.
Besides applying many advanced technologies, VNPAY-POS also fully meets the standards of the International Card Scheme. It can be tailor-made to scale and specific industry requirements, such as building separate systems and management software to help businesses operate more efficiently.
Cooperation to accelerate the universalization of cashless payments in retail chains
Viettel Store is a dynamic retail chain with more than 300 outlets around the country, and pioneers the application of technology to improve service quality and the customer experience, while VNPAY is the leading provider of electronic payment solutions in Vietnam. This cooperation will help the two sides maximize their advantages and make it easier for customers to access modern payment methods, thereby contributing to the growth of cashless payments.
VNPAY-POS not only helps to put Viettel Store's customers at ease in regard to the payment process, invoice printing, and transaction history check. In the future, VNPAY will also deploy new features to cater to customer needs, such as installment payments via credit card and deposit transactions management, helping Viettel Store improve the shopping experience and boost sales.
Ms. Dinh Thi Dung, Director of Viettel Store, said that digital transformation in businesses has been stronger than ever amid Covid-19. "The cooperation between Viettel Store and VNPAY is necessary to provide a safe cashless payment method in our business model," she added. "With the implementation of VNPAY-POS, Viettel Store aims to apply the latest payment technologies into its operating process, bringing the most convenient and complete payment and shopping experience to customers."
Mr. Le Tanh, General Director of VNPAY, said that during its development journey, VNPAY constantly innovates and applies the most modern technologies to meet the increasing needs of enterprises as well as users. "Through the cooperation between VNPAY and Viettel Store, we bring a new form of payment that is safer and more convenient for businesses, while helping them optimize costs and increase revenue," he noted. "We hope that dynamic businesses in applying new technologies, like Viettel Store, will contribute to economic development and bridge the gap in Vietnam becoming a 'cashless society'."
Cashless payments - The goal of the 4.0 economy
Deputy Prime Minister Le Minh Khai recently signed Decision No. 1813/QD-TTg approving a project to develop cashless payments in Vietnam in the 2021-2025 period and containing specific goals. By the end of 2025, in particular, the value of non-cash payments is to be 25 times higher than GDP.
The overall objective of the project is to create a positive change in non-cash payments in the economy and to make such methods become a habit among people in urban and rural and remote areas, reducing the social costs associated with cash.
At the same time, achievements from Industry 4.0 will be applied to develop payment infrastructure and cashless payment services, and to conveniently meet payment needs.
VNPAY is a leading company in the field of electronic payments in Vietnam. With its core business in Finance - Banking and Information Technology - Telecommunications, it provides payment services and solutions to thousands of domestic and international enterprises. It is currently cooperating with and providing Mobile Banking services to more than 40 banks, with a diverse utility ecosystem to meet all personal financial needs.
It is one of the first enterprises to launch a variety of modern and convenient payment solutions, including QR code payments. The company is known as one of the pioneers in rolling out the state-of-the-art VNPAY-QR code payment solution, which is integrated into mobile banking apps to provide a QR Pay function. Payment methods via VNPAY-QR codes were honored in becoming a Vietnam National Brand in 2020. VNPAY-QR payments have been deployed widely in sectors such as retail, fashion, entertainment, electronics, hospitals, and education, with nearly 150,000 merchants nationwide.
It is also the provider of services such as VNPAY-POS, VNPAY e-Wallet, VnShop, VnTopup, VnTicket, and SMS Banking, which provide a seamless customer payment and shopping experience.
Viettel Store is a retail chain under the Viettel One-Member Trading and Import-Export Co., Ltd., with more than 300 outlets around the country specializing in the sale of phones, computers, home appliances, accessories, smart devices, telecommunications services, and e-banking. Its key segment in terms of profit is smartphone retail.