The world of consumer goods is changing fast, and all snacking players in the market need to continue to adapt, be agile, and move fast to win. Among them, Mondelez proves its leading position through its innovative product portfolio, broadened distribution footprint, and embrace of technology in daily operations.
While Mondelez International announced strong top-line results in the first quarter, driven by strong volume growth, Mondelez Kinh Do Vietnam also reported impressive achievements in its business performance.
Accelerating consumer-centric growth with disruptive products and campaigns
Consumers prefer their trusted snacking brands but they expect more from the brands they support in terms of offering, value, and quality. Mondelez International's Third Annual Snacking™ report shows that consumers are spending more time snacking. Beyond nutrition, 85 per cent eat at least one snack for sustenance and one for indulgence each day.
In Vietnam, Mondelez Kinh Do's core brands have maintained a strong presence. As Vietnam's snacking market is growing, the leading snacking company focuses on broadening its wide range of delicious, high-quality snacks to maintain its leadership in the market. Besides providing innovative products that consumers genuinely desire, Mondelez Kinh Do keeps raising the bar of excellence by prioritizing key geographies, transforming its marketing approach, implementing agile innovation, and driving growth in new channels to provide consumers the right snacks with the most convenience.
In the first quarter of 2022, Mondelez Kinh Do recorded a successful Tet holiday season with outstanding sales and consumer engagement in a meaningful campaign to support small Vietnamese retailers experiencing challenges from the pandemic. The company also inspired consumers with a breakthrough campaign called Cosy's liven up, to encourage people to give warm-hearted messages to their loved ones, and a special celebration campaign for Mother's Day from the LU cookie brand. Mondelez Kinh Do has also strengthened its product portfolio with its new AFC Caramel Flan sweet crackers and new Thai Spicy Bread, winning the hearts of consumers. In May, the world's favorite cookie, OREO, kicked off a party to celebrate its 110th birthday, with a limited-edition flavor, the OREO Birthday Cookie.
Enabling easy access to the best products
Mondelez Kinh Do has been striving to broaden its distribution channels to ensure product availability. Its Tet holiday campaign saw impressive visibility of its products across 200,000 physical stores and major online shopping channels such as Tiki, Shopee, Lazada, and Grab.
Recently, Cadbury Dairy Milk Chocolate, an iconic global premium chocolate brand from the UK, took another concrete step to expand its footprint in Vietnam by installing Visicoolers at major grocery stores in Ho Chi Minh City, with more to come to its nationwide supply chain after the pilot period. The giant snacking company's heavy investment in sales infrastructure and route-to-market expansion for Cadbury Dairy Milk is a special move to tackle a barrier in distributing chocolate in hot and wet weather conditions, to make chocolate more "ready to serve" and elevate consumers' eating experience in Vietnam.
To build a strong foundation for future growth, Mondelez Kinh Do has launched many digitalization and technological innovations in operations and administration. More than 200,000 retail outlets have been empowered with artificial intelligence (AI) mobile applications in a national roll-out campaign. The project has allowed Mondelez Kinh Do to better serve its consumers while increasing sales quality at each point of sale and coverage, thereby helping to optimize its product portfolio and its partners' growth.
"Accelerating the consumer-centric growth approach, we subtly observe every change in consumption trends to meet demand," said Mr. Nguyen Dinh Chung, Director of Sales at Mondelez Kinh Do Vietnam. "Therefore, Mondelez Kinh Do endeavors to bring our best products closer to consumers. We also invest strongly in distribution channels and advanced technology to better serve our retailers and their customers, thus ensuring that consumers can indulge in our products conveniently. This strategy has enabled us to overcome challenges and grow continuously in Vietnam for years."
Being a good role model in social responsibility
Keeping up the momentum to lead through the pandemic, Mondelez Kinh Do has exceeded each of its targets for the year across categories. These results reflect the underlying strength of its long-term business strategy and bold commitment to empowering Vietnamese consumers to snack right.
Snacking is much more than a source of nutrition and indulgence; it is also a source of social connection, inspiration, and purpose. According to the Mondelez Snacking™ report, the vast majority of consumers worldwide (85 per cent) want to buy snacks from companies offsetting their environmental footprint. As a responsible corporation, Mondelez Kinh Do is committed to growing its business by making snacks in the right way, with a positive impact for people and the planet. Accordingly, the company is addressing the sustainability challenges by deploying many initiatives, from EPR to CSR, such as innovative and recyclable packaging, renewable energy, water, and food waste reduction across the supply chain, and replacing thermal fuel with green alternatives.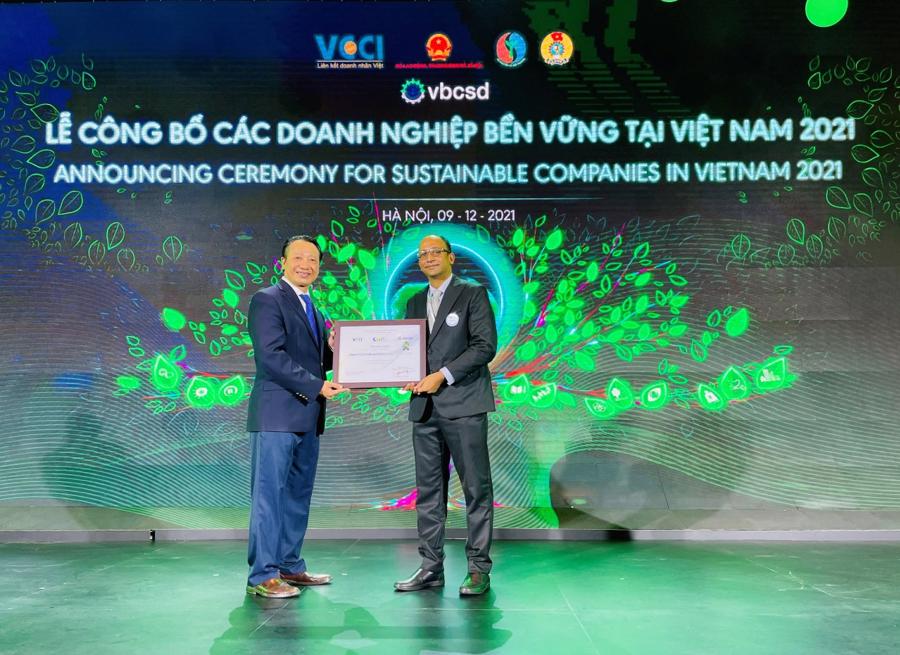 As a result of its outstanding efforts towards creating sustainable development in Vietnam, Mondelez Kinh Do has been recognized as being in the Top 100 sustainable companies in Vietnam by the Vietnam Chamber of Commerce and Industry (VCCI) in coordination with the Ministry of Labor, Invalids and Social Affairs (MoLISA), the Ministry of Natural Resources and Environment (MoNRE), and the Vietnam General Confederation of Labor (VGCL).